Building Accurate, Positive Customer Reviews
If your business receives a review or complaint, it will go through a rigorous 72-hour vetting period to verify it is coming from a legitimate source. Your BBB team will work directly with you and your customer to help resolve the issue as soon as possible.
How it Works:
The reviewer will receive an automated email for validation. The submission will not be posted if the reviewer does

not

respond.
If the reviewer responds, BBB notifies the business via email. The business may choose to respond or challenge the review.

Please note correspondence made on bbb.org may be posted.
To view customer reviews or complaints, simply access your business login, then select Respond to a Customer Review or Respond to an Open Complaint. Be sure you know your complaint ID number.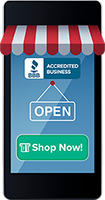 Now Open! BBB Online Store
Order your complimentary BBB branded magnets, car stickers and window decals today!
Get started by accessing your BBB Accredited Business Login page, then click the BBB Online Store banner. Your login credentials are conveniently located below the banner.