Cheap. Easy to navigate. Seen by hundreds of millions. Sound like a too-good-to-be-true marketing plan? Well, it's actually not, thanks to the inception and exponential growth of the social media platform Instagram.
While Instagram has been around for a while, it continues to reign as one of the top ways to market products and boost sales across a wide array of industries. With one billion active users and 25M business profiles, Instagram should not be ignored in your marketing strategy. And you wouldn't be alone — an estimated 71 percent of small businesses rely on Instagram to enhance the visibility of their products and services.
Having a digital presence on Instagram is an increasingly reliable way to boost awareness and your bottom line. Here are a few ways you can leverage this powerful tool:
1. Connect with your audience
With an average engagement of anywhere between 2 and 7 percent (compared to Facebook is at 0.10 to 0.15 percent), the ability to connect with existing customers and also expand your reach will only help foster sales initiatives. Additionally, using one hashtag can grow your engagement rate to nearly 13 percent, and if you tag your location, you can skyrocket that to 79%. That's especially great for local businesses.
There are many different types of content that you can provide on Instagram, and you should try a few to see what works best for you and your brand. Here are some recommended ideas:
Post product- and service-specific images that are high resolution.
Go behind the scenes. Show followers the people behind your company and what makes you different.
Don't be afraid to offer discounts, run contests, and do giveaways.
Try promoting different posts to see the type of awareness and engagement you can gain.
Direct message target customers with coupon codes.
2. Learn and use hashtags
Learning to use hashtags relevant to your business helps get your name out there beyond just your set number of followers. You can include up to 30 hashtags per post and up to 10 for Instagram Stories. The key here is to ensure that you are not using the same hashtags over and over but that each post is tagged with relevant hashtags.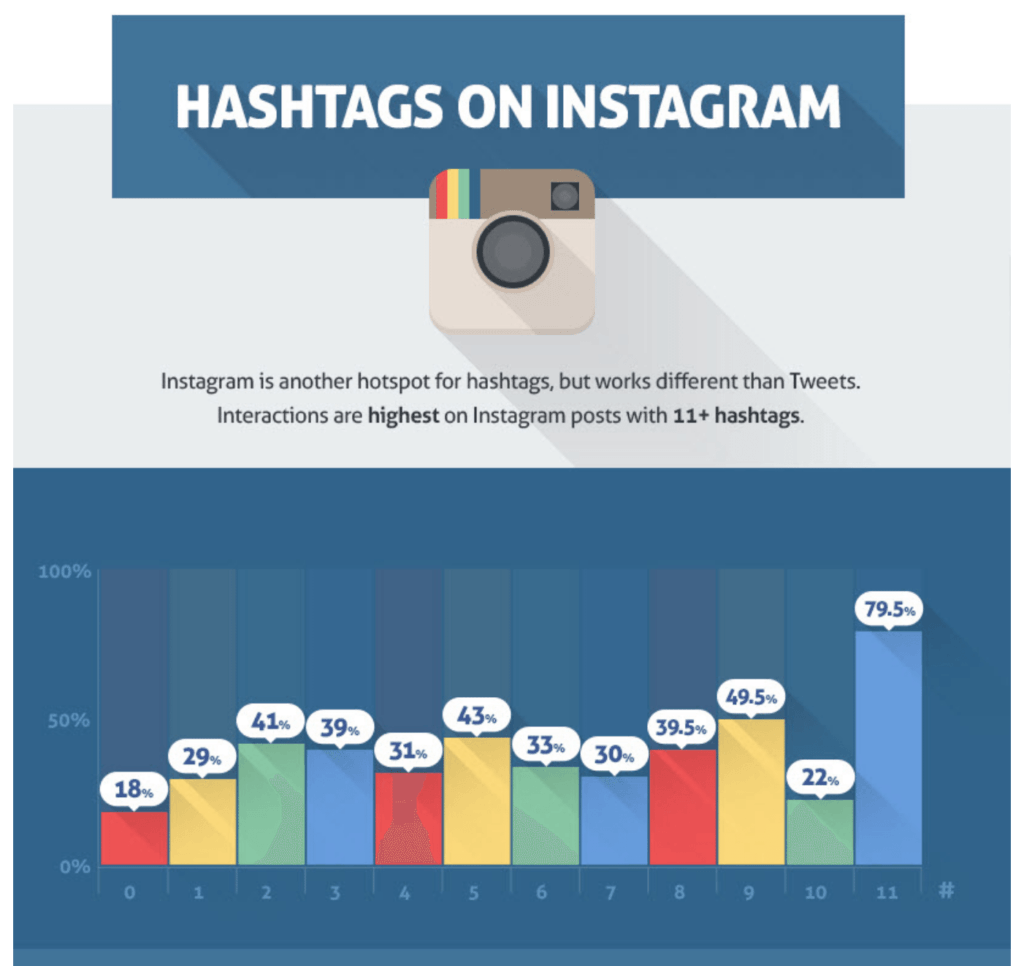 New to hashtagging? Learning the lingo is somewhat straightforward and easy to conjure based on your particular industry. Many use online hashtag tools to determine what is "trending" (read: popular) within their particular sector.
3. What's your story?
Instagram Stories is a relatively new feature. Stories are short video clips that followers can view that help to create a more unique user experience and better explain the brand. For instance, a microbrewery may post a brief Instagram story covering the making of a new IPA, which will intrigue followers and hopefully result in them appearing at the tap room to try it out (with a few friends).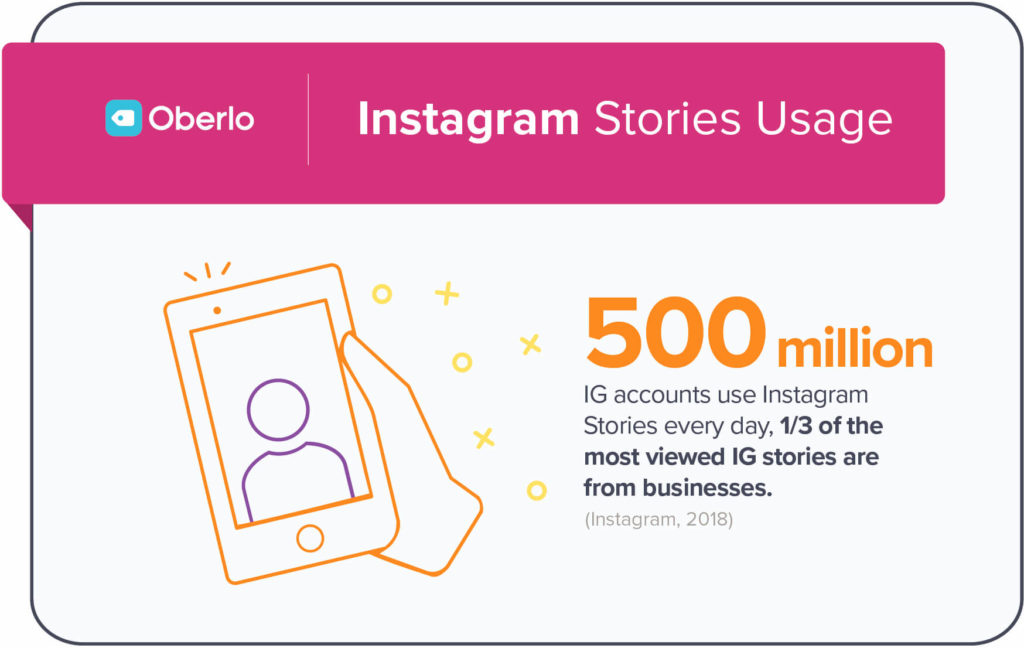 Stories are a great way to also show some personality and interact with your followers. Stories can feature hashtags, @ mentions, and location tagging, as well as some more fun options like GIFs, polls, countdowns, and questions that you can ask your followers. The more you can engage with your followers, the more they will see you as authentic and approachable.
4. Influencers
Influencers are exactly what the name suggests — people who are able to leverage their social media following to attract business and boost sales. Influencers can help your business in a number of ways, so it pays to become familiar with the concept and learn ways to best enhance your marketing strategy with this sort of dynamic.
Also known as ambassadors, influencers can be an incredibly valuable asset. Several websites are out there to help connect brands with influencers, or you can begin by simply reaching out and offering free products/services in exchange for their willingness to tout your brand on their page.
This marketing tactic is definitely worth considering, even if your business is new to Instagram. Estimates reveal that influencer marketing is between a $5-$10 billion industry, and a survey of Instagramming businesses recently revealed that 89 percent of companies saw an ROI on influencer marketing comparable with (or better than) traditional marketing channels.
5. Get to know your followers
As your following continues to grow, you will hopefully begin to gather comments on your posts. Respond to these! If you receive meaningful feedback in the comment section, a sincere reply — whether to kudos or criticism — will make your business seem approachable and real. It is not to say, of course, that hateful or discourteous discord will be tolerated, and you should report and remove this banter immediately. Also, don't feel like you have to answer every single comment, as this could appear disingenuous and forced.
Be sure to also routinely check notifications to see if any customers have posted about your product, tagged your business in an image, or written an unsolicited review on their personal page. It could be a great opportunity to comment and repost the image (with permission), thereby creating lasting customer relationships and, hopefully, return shoppers.
6. Exclusive contests
Exclusive contests are a fun way to engage your current list of followers and build brand loyalty for your product or service. Statistically, Instagram accounts that hold regular contests enjoy 70 percent faster growth of followers than those that forgo this somewhat simple marketing strategy. As well, these posts get a higher rate of commenting and likes as compared with an average post — a reported 91 percent of Instagram posts with 1,000 or more comments are contest posts.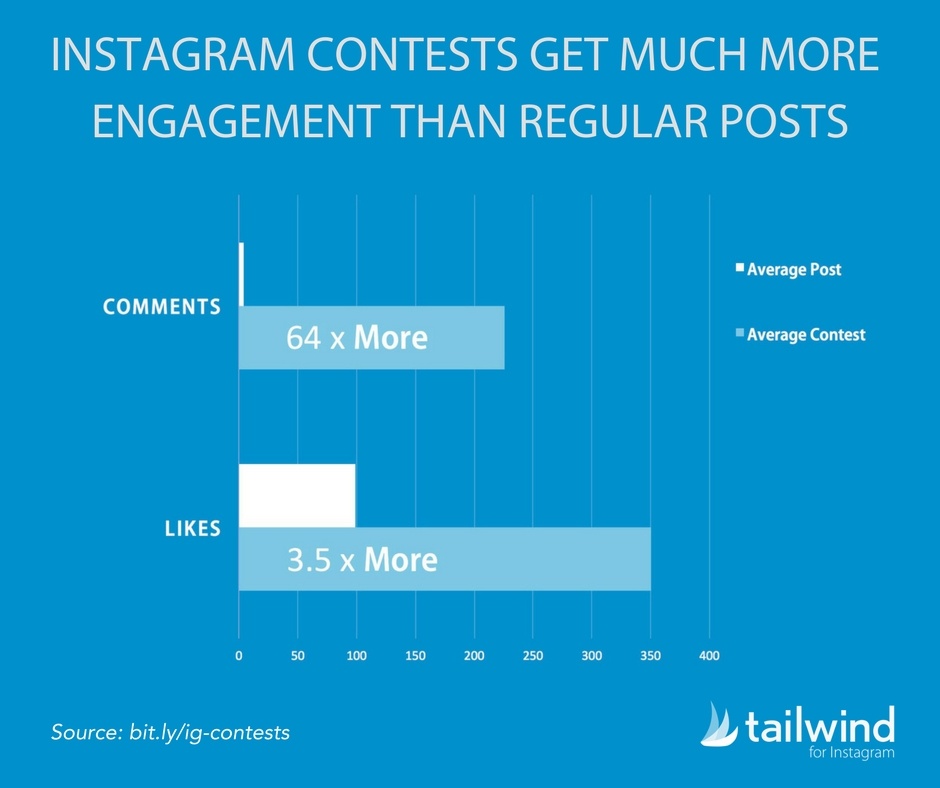 How does this work for your business? Select an item or service that would be appropriate as a giveaway for the number of winners you choose (one is fine, or you can select a handful). Post an eye-catching image of the item (or graphic explaining the service), accompanied by a caption with clear rules. To engage followers, encourage them to tag a friend in the comments (thereby entering the follower and the friend). Another option is to encourage followers to post something and tag your business in the photo, thereby creating an entry.
Tailor the rules how you see fit — but be prepared for your followers and brand presence to grow quickly.
7. Enhance your bio
Spend just a few short moments on Instagram, and you will inevitably see the invitation to check out the "link in my bio." What does this mean? The "bio" is the sector of space a business can use to describe its purpose in the industry, convey a corporate personality, and prompt the consumer to take action. The centerpiece of your business bio should be an eye-catching photograph of either your top-grossing product, the face of the corporation, or any other image that will encapsulate the essence of your enterprise.
From there, Instagram bios allow for just 150 characters in which you must super-summarize your business (emojis are allowed for brevity). Also, the bio area is the only space on the Instagram profile that allows for URL links to your sales page or general website, so take advantage of this opportunity. Another highlight of the business-optimized IG page is the opportunity to add a call-to-action button, which can direct users to your email, DMs, or phone number.
8. Take the business-ad plunge
Instagram knows it's good for business, and for this reason, offers an Instagram for Business option. Currently, there are 25 million business profiles on the platform, with millions of advertisers using Instagram to share their sought-after products and client brands. A business profile — as opposed to a personal page — opens up certain opportunities reserved for business marketing, including:
Paid (sponsored) advertising campaigns, tailored to your business budget
Access to metrics to see who is viewing your content and how your followers interact with each post
Access to Shopping on Instagram, in which you can actually tag your products within each post
Already have a personal account? Conversion to a business profile is seamless.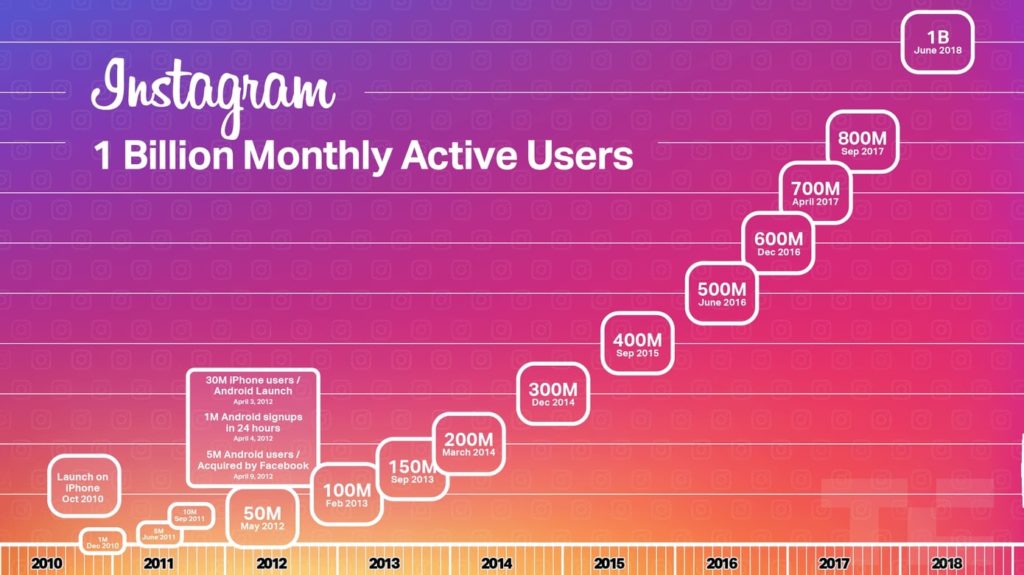 9. Kill it with content
Your content must be as unique as your business, and this requires a bit of prowess with your posts. Each post should invigorate your followers to want to learn more about your enterprise, and the goal is to create a unified brand through diversified social media content.
What does this mean exactly? Instagram marketing begins with an eye-catching image or video clip — something your followers have not seen yet today. Consider a content "theme" as you prepare your posts, which could be as simple as a coordinated color palate or a multi-part series of posts. Instagram also provides a number of additional apps to help users create killer content, including Boomerang, Layout, or Hyperlapse.
Another fun aspect of Instagram for business is reposting user-generated content, including posts of your followers using your product, visiting your restaurant, or using your service. If you spot a follower post that you think would make a nice addition to your content calendar, check with the owner first — then post away. These types of posts create greater brand awareness, as well as making your business seem friendly and involved with its fans.
10. Authenticity wins every time
You've put your soul into your business, building it from the ground up with your own blood, sweat, and tears. Your social media content should reflect the heart of it all: you. Try not to overthink or over-produce each post. Focus on spontaneity, the uniqueness of your staff, the vibe of your office space, or the Zen of your creative space.
Wrapping It Up
Be yourself, let your light shine, and remind your followers why you are successful in the first place. With a well-developed social media marketing plan, the followers will turn to leads, which will turn to sales, revenue, and ultimately, profits. Instagram can be an extremely powerful marketing tool for an exceedingly low price, so if you haven't created your profile yet, start today.