Exactly one year ago I brought home my golden retriever puppy, Winston Thundercloud. I had
waited so long for him. The research, the prepping, the toy buying. It was all
leading up to this moment, picking him up to officially welcome him to our
family.
I was nervous. There was a tiny crumb of doubt in my brain, heart and gut. It wasn't uncertainty about the puppy himself, I was 100% sure about my instant love for him. But the thought that this whole thing could turn out to be a scam had crossed my mind, a few times.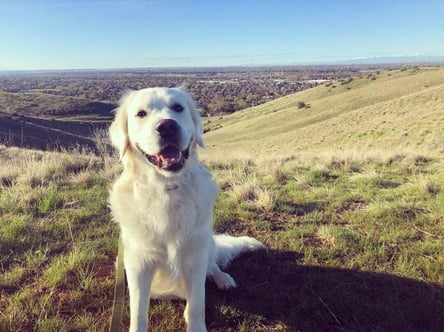 It's probably because I constantly have my "BBB hat" on. Working for the Better
Business Bureau has opened my eyes to the many scams out there. I've heard the
heartbreaking stories of people in my community falling victim to con artists,
losing hundreds, sometimes thousands, of dollars.
Pets were the #1 online purchase resulting in a scam last year. Puppy scams continue to
pop up on BBB's Scam Tracker across the country and right here in our backyard.
Last month, a Kuna woman lost $500 when she thought she was getting a beagle
puppy. The puppy never showed up and the requests for money from the alleged
breeder continued.
It's stories like these that make me have my guard up. Fortunately, Winston Thundercloud wasn't a scam and he's brought us so much joy over the past twelve months. Here are the steps that I took to make sure I wasn't getting scammed:
Look at the website with a fine tooth (flea) comb. Con artists are quick to put up websites, often showing up in sponsored search results, with cute puppy photos in hopes of luring you in.
Run a search on the breeder, website name and AKC information. Make sure what they are saying is true and reputable.
See the puppy in person. Check out local breeders or, if you are looking at a breeder out of your area, Facetime with them to make sure the dog exists.
Perform a Google image search. Scammers often pull photos from other sites and claim them as their own. Doing a reverse image search will show where else that photo is popping up.
Beware of surprise expenses that weren't clear from the beginning. These fees include travel costs, insurance coverage and special crate needs.
Pay with protection. Most breeders will ask for a deposit; avoid wiring money or paying with untraceable forms of payment.
Another way to avoid puppy scams, add a furry friend to your family while doing good in our community? Check out the dogs available for adoption and waiting for their forever home at the Idaho Humane Society and West Valley Humane Society.
If you do find yourself in this situation, help others by reporting your story to BBB Scam Tracker.
Best of luck
to you finding your new best friend.