It is fair to say that some of my favorite days
out of the office are spent at Women Owned Business Tours. These tours, put on
by our friends at the Prospera Business Network, showcase the incredible
contributions local business women make in the community every day of the year.
This Spring, two Bozeman businesses – The Lindley House and Altitude Gallery – were spotlighted during a tour. The Lindley House is owned by Alison Udall, a Bozeman transplant who fell in love with the area nine years ago. After sending the last of her four children off from the nest, Alison was eager to test her dream: becoming a Bed & Breakfast proprietor. Before taking a deep dive into her future profession, Alison waded her toes in the hospitality pool by renting out her house on Airbnb. When that went well, Alison took the full plunge and purchased a historic Bozeman home in the heart of downtown.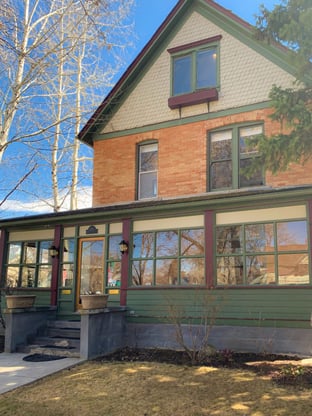 The five-bedroom red brick house had been used as
a vacation rental for the previous 10 years when Alison and her husband bought
the property in 2016. There was plenty of work to do before Alison could host
her first guest.
"When we bought the house, it looked like a
Victorian frat house," Alison recalls laughing.
There was floral wallpaper everywhere and a
mishmash of outdated décor. Alison and her husband quickly set about creating a
more soothing, updated Bed & Breakfast. The pair worked at a breakneck pace
for five months renovating everything they could themselves. If it was too
large a project, Alison would enlist the help of a local pro and try to work
alongside them to learn the skills herself.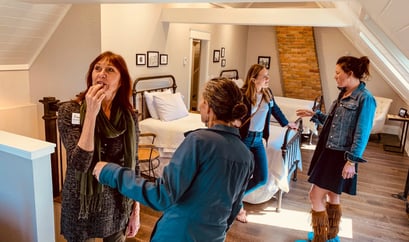 "I learned
to use a Sawzall as good as any man," she says.
That quick reno and restoration yielded beautiful
results. By the summer of 2016, The Lindley House was transformed into a chic
property fit for guests from all over the world. And that's exactly what they
got. From the moment they opened their doors to guests, Alison says it's been a
total whirlwind.
Last year, The Lindley House hosted 1,628 guests from 47 states and 16 countries. To keep up, Alison says she does everything from accounting to cleaning. She cooks for her guests, and acts as a concierge, helping them plan activities and meals.
Alison said she's thankful for the Bozeman
community offering her the resources and encouragement she needed to thrive. If
her packed guest list this year is any indication, Alison will stay busy long
into the future.
Three blocks away from the Lindley House on
Bozeman's Main Street sits Altitude Gallery. Altitude owner Amy Kirkland
affectionately refers to her tiny shop as "a gallery for the people." And the
people agree. For the past 10 years, Altitude has been named Bozeman's favorite
gallery. For a shop that only opened its doors 14 years ago, that's a dang good
track record.
For Amy, her gallery is a way to offer art for
all.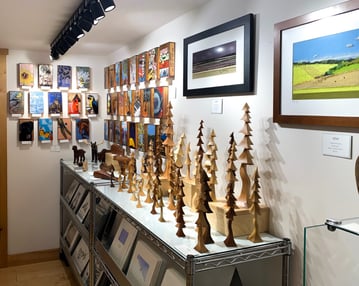 "It's the same to me seeing a college kid buying
art with his second job money as it is someone living in the Yellowstone Club
buy art here."
The Yellowstone Club is, of course, the
millionaires' and billionaires' exclusive ski resort and compound located an
hour away in Big Sky, Montana. And though big purchases can help her keep the
lights on and doors open, Amy says she was raised to appreciate and collect
art, no matter how much money you have.
"I grew up in an
artistic, outdoorsy family in Seattle," Amy says. "We spent vacations camping
and backpacking. After college, I traveled across the west, hiking, kayaking,
and representing my father's nature photography at art fairs and festivals."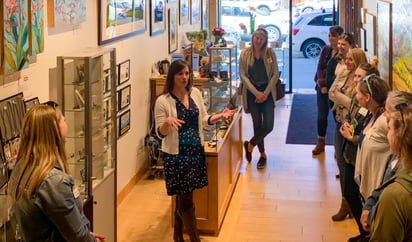 In 2005, inspired by
the artists she met along the way, Amy decided to open a gallery of her own.
She started out selling art on consignment. As she built her reputation, Amy
began buying art at wholesale price. Her shop today includes everything from
hand-forged jewelry to oil paintings of wildflowers to ornately decorated
animal skulls.
The "gallery for the
people" is gearing up for a busy summer of art walks and tourist traffic.
Whoever ambles in, Amy will happily sell her artists' work, because, as she
says, art should be available for all.
Women Owned Business
tours represent part of a growing trend in Montana. According to a 2017 State of Women-Owned Business Report, Montana has
seen a 67-percent increase in the number of businesses owned by women over the
past two decades. Montana is home to more
than 37,500 women-owned businesses employing nearly 35,000 people, according to
the report. Those businesses add nearly $5 million to the state economy each
year. As we participate in Small Business Month,
it's important to recognize the contributions of women in business across the
state. So, get out there and say thanks to your favorite female
entrepreneur/businessowner.