You know that warm, comfortable feeling you get when you walk into a business and you can just feel the love in the air? Or maybe it's the sense of smell that takes you back to a distant memory. Or perhaps it's just that special something that you cannot put your finger on, but you know you are in the right place. That's recently how I felt walking into Blaines Art store. I have been into this store several times over the years, and I get the same feeling every time.
This time was only slightly different as Copper greeted me as
I walked in the front door. She was calmly acting as the welcome greeter to all
those who were there to get whatever supplies they needed for their next
project. I found out Copper is a Black Lab mix and was rescued from the pound
by owner Rene. She's been a staple at the store for some time now.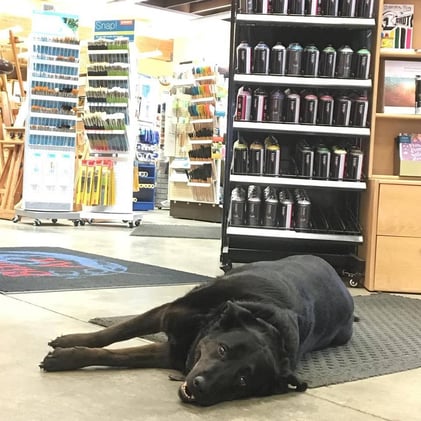 I walked around perusing the myriad options to create the
next artful masterpiece, wishing that my love for art could somehow transcend
into something that looked better than what a five-year-old with a box of
popsicle sticks and some Elmer's glue can do. After daydreaming of becoming a
modern-day DaVinci, I made my way to the counter and met with Dave Haag, owner
of Blaines. We went up to his office to talk about the store. Of course, Copper
attended the meeting.
Dave and Rene Haag took over the business in 1998. Rene had
worked for the previous owners since 1986. When they were thinking of closing
the business, she told them that she was interested in buying. She and Dave
scraped up every penny they had, got an SBA loan and became the owners. In 2010
they moved to where they are now – a brand-new, larger, state-of-the-art
building that not only houses all the art supplies you could ever need but a
frame shop, a coffee shop and a very large studio to offer classes to the
public.
Rene had a love for painting, especially flowers. Sadly in
2017, she lost her battle with cancer, and now Dave carries the torch and the
love of providing a space for his community of artists.
"The best way to honor her legacy is to survive and thrive,"
says Dave of his beloved wife. There are pictures of beautifully painted
flowers adorned all over his office.
I think the feeling or emotion I was trying to describe
earlier is "community." Art has the power to elevate a community that wants to
give back.
"We want to give back to the community that supports us. We
put our money where our mouth is and want people to know that being involved
with an organization like the BBB; that if we don't do our job there is a
resource there for people to use."
The sense of community, the feel-good feeling when you walk
in the door, and the ever-so-soft and warm greeting from Copper will keep me
coming back again and again.