Imagine being in a room with over 300 kids from middle to
high school. In ninety minutes, the students have surrounded you. Frightened?
No way. These Hawaii students were part of the Hawaii State Student Council
2019 Leadership Conference and they were on site to learn everything we could
show them. The two-day conference prepares the students for leadership
roles.
The Hawaii State Student Council (HSSC) represents over
180,000 Hawaii public school students.
The HSSC's members include one student from each Hawaii public high
school and one student member from the Board of Education. These council members are the liaison between
Hawaii students, the Department of Education (DOE), and the State Board of
Education. They are the voice of their
fellow students.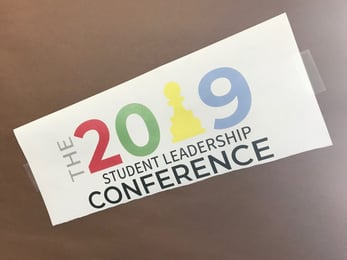 The 31st annual HSSC Leadership conference held at the
Hawaii Convention Center on June 13 & 14, 2019, was two packed days of
keynote speakers, meetings and activities.
The resource/ vendor fair was on the first day and included 25 various
organization; photographers, military recruiters, flowers, ocean safety, as
well as numerous profit and non-profit organizations.
While many of the students had not heard of the Better
Business Bureau, they understood our mission of trust in the marketplace. We emphasized the importance of researching a
business and how the consumer can fall victim to questionable business
practices. One middle-school student
said, "you provide a valuable service to the community and thank you for
the work BBB does for Hawaii." Another high-school student had heard about
BBB and ethics in her high school marketing class.
In addition to sharing about choosing the right business, we
gave information on scams, especially those targeting social media. Recently, BBB was alerted to a fraud
happening on Snapchat. The scheme: scammers target young adults – Millennial
and Gen Z'ers mostly – and offer them an opportunity to make money with a
"sponsorship" or "advertising opportunity." They instruct
the person to send money via gift cards. Then, the scammers request account
login information to get on Snapchat and invite that person's friends to be
part of this "opportunity" and keep the scheme going. The initial
victim's login information is changed, leaving the scammer in control of the
account and the victim locked out. The
attendees were surprised to learn of the Snapchat scam.
Kara Yoshiyama, SSC Chairperson, said, "Our wonderful
conference theme, Life Through Leadership, is based upon the idea that
leadership is a game of life, you may fail, you may succeed, but there will be
challenges along the way." Educating consumers, businesses, leaders, and
future leaders on ethics, honesty, and transparency are what we do at BBB. Through conferences like HSSC Leadership
Conference, BBB impacts tomorrow's leaders in ethical leadership. The first step for a great leader is learning
how to be a great leader. The HSSC
Leadership Conference is a significant first step.