Picture this: You enter a bar and sit down to order a beer. The server presents a list of draft offerings, and on it are about four options – a couple of cheap lagers, one IPA and a standard ale. Odds are, you're largely underwhelmed. Why? Because today we live in a world of craft beer and high expectations, where city's cultures are defined by the flavors pouring out of them. And make no mistake, if a bar doesn't have a mix of sours, stouts, saisons and, of course, several IPAs, then it missed the memo.

Arguably, there is no U.S. city that appreciates craft beer more than Portland, Oregon. That's not to say there aren't a dozen or more major craft-beer destinations throughout the country. Denver and San Diego are two prime examples – and Seattle is worthy of an honorable mention – but Portland is a standout among these bastions of brewers.
First, Portland-metro is among the top-ranked cities for the most breweries per capita at 139 for 1.8 million people, as of December 2018, according to pop culture-focused Paste Magazine. Second, the history of craft-beer in the U.S. can trace its roots back to Oregon. In the 1980s when most beer consumption was limited to big-name, corporate lagers, a few innovative enthusiasts started their own microbreweries in Portland, ushering in a new era.
Better Business Bureau Northwest + Pacific accredits all types of businesses, breweries included. Among them, it's common to find champion business owners who engage in their industry or pioneer new trends.
This brings us to Portland's Von Ebert Brewing and Kells Brewery.
"My favorite part about running this business is pushing our team to do more than they thought we could," said Tom Cook, owner of Von Ebert Brewing. "We push them to always be creative and to be trend-setters, not trend-followers."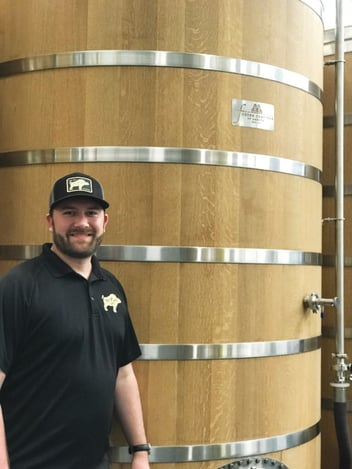 Von Ebert is a fairly new brewery to the Portland beer scene. With two locations, Von Ebert opened its first location in the Pearl District in March of 2018, followed by their location on the Glendoveer Golf Course in July of that same year.
Most would agree the Pearl District is an apt location. The Pearl is known for its perfectly placed breweries and ale houses, all within walking distance, including 10 Barrel Brewing, Deschutes Brewery Portland Public House and Rogue Pearl Public House. Von Ebert offers a spacious interior and several picnic tables out front that fill up quickly in warm weather. Von Ebert brews one of my favorite sours: Eat Me Cake.
Meanwhile, the Glendoveer location sits on a lush golf-course in Northeast Portland. Its lodge-style vibe encourages kicking back on the patio and taking in the scenery – while sipping a beer, of course.
"We are pretty young, so we haven't seen a ton of evolution," said Cook. One big development was hiring a chef in late 2018 for a complete menu overhaul at both locations. "That has gone really, really well," Cook added. "I think the next evolution will be packaged beer."
Speaking of packaged beer, let's talk about Kells Brewery, which has several kinds of its beer canned and available for purchase. Kells is a totally different kind of brewery, rooted in Irish traditions and culture. Ever been to Ireland? If not, no worries, because stepping into Kells transports you there.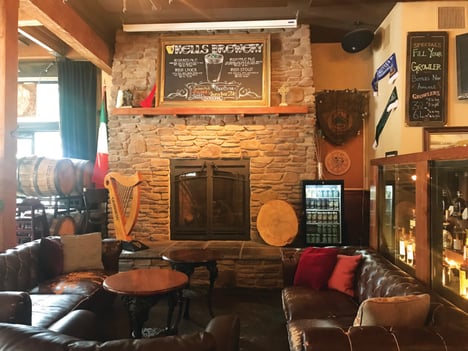 "My father moved from Ireland and opened Kells Irish Pub and Restaurant in Downtown Portland when I was two," said Garrett McAleese, owner of Kells Brewery.
There is an important distinction to be made here: Kells Pub has been around since 1983 and is a Portland favorite. Kells Brewery is newer, and yes, operates its own restaurant, but this is where the beer is actually brewed.
"Over the years, we imported many different Irish-brewed beers [to the pub], but by the time they got to the West Coast of America, they were six months old at times," McAleese said. "The quality and flavors were never quite like what you could get in Ireland. Something had to be done."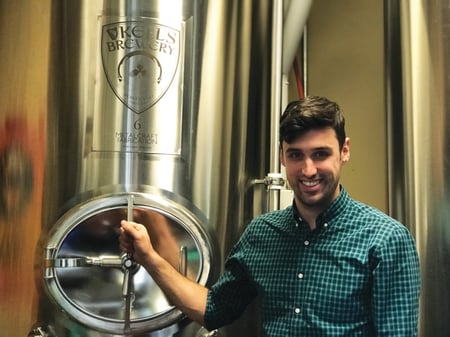 And so began the journey that would eventually lead to Kells Brewery as it is now. The space is mostly wood cladding; it's warm and inviting. In fact, while sitting down with McAleese recently, one of his customers came in as she was considering having her wedding rehearsal dinner there – an undeniable nod to the comfort found here.
What's particularly stellar about Kells is how involved the McAleese family is in the community. Over the past 30 years, Kells has given back over half a million dollars to charities and has donated to more than 30 local schools.
Their locations serve as a meeting place for those of Irish heritage, socially and culturally, offering live music, Irish dance, Kells' bagpipers, Gaelic football viewings, poetry readings, AOH (Ancient Order of Hibernians) meetings and, of course, a huge festival held over St. Patrick's weekend.
"Also, Kells acts as a pseudo Irish Consulate," McAleese explained. "If you lose your Irish passport while in Portland, we have the paperwork. The only other option is to fly to San Francisco."
Get a new passport and great beer while you wait? Not a bad deal. While both Von Ebert and Kells bring a lot to the Portland craft-beer scene, there are still hurdles to overcome, especially as craft-beer has become a buzz word with more players in the game every day. The craft-beer industry contributed just over $2 billion to the Oregon economy in 2017, according to data from the Brewer's Association published in Central Oregon newspaper, The Bulletin. The growth has slowed from previous years, but industry experts say this is because the arena is maturing.
Across Oregon, there are 281 breweries, according to 2018 statistics, the latest available from OregonCraftBeer.org, the state's industry information hub. By now, I would bet that number is larger.
This means hundreds of passionate and knowledgeable employees work in the industry, trying to make their mark. Production numbers are going up, employment numbers and sales continue to increase, and not surprisingly, Oregonians are drinking more and more Oregon-brewed beer. Moreover, Oregon ranks No. 1 in the percentage of money spent on craft beer compared to every other state, also according to OregonCraftBeer.org.
Simply put, beer is elevated here. There is no single style that defines Portland. Brewers here get crafty. For consumers, this is what it's about: going to a new brewery and getting to try a flight of radically different beers — some bright pink, some darker than your morning coffee — and they're all made with local love. Food author Lucy Burningham writes about how deeply craft beer is embedded in Portland's culture: "We drink barrel-aged saison at movie theaters. We drink fresh-hop beers at bike shops."
She's spot on.
"I think the Portland scene is incredibly advanced," Cook said. "From a beer quality and beer fame perspective, we compete with places like San Diego despite the fact the city of Portland has around 650,000 people."
For comparison, San Diego is home to about 1.4 million people. Portland is the little brother or sister you want to ignore but can't.
"We're a small city, but we hold our own," Cook continued. "The competition can be brutal, but in a healthy way. To stand out, it takes a tremendous amount of self-criticism."
Cook explained that if a brewery's guests are tougher on the beer or food than the owner, then that place isn't going to last long. Listening to customers is key.
McAleese echoed this sentiment, emphasizing that it's important to take note of what the best sellers are in the bar and on the shelves. "We standout by making what we love and also making what the customer loves," McAleese said. "We listen to our customers. If they want hops and haze and fruit, we give it to them in abundance. But we also stick to our roots and make beers that are very traditionally Irish."
For both men, a day in the life of a business owner isn't easy. It's an around-the-clock job that requires more than just a passion for beer, but also the dedication to understand the myriad legislative matters that could impact them. McAleese said his appreciation for people and new friends makes the job worth doing.
So, if you're ever in Portland and looking for a place to grab a cold one, consider one of these BBB accredited breweries. Cook recommends his favorite beer, the V.E.B Pils. McAleese says shoot for whatever is newest on the menu because it's bound to be the most interesting.
As a consumer, no matter where you go or what brewery or brew you choose, you'll find a flavor that suits you. And in the true spirit of Portland — it's OK to try something a little weird.