Adventure. It's a big word, both in the thinking and the doing.
In Alaska, Adventure is spelled with a capital "A," and it's something we get to enjoy almost daily. Just driving to work in subarctic temperatures can be an Adventure. Hiking at 2 a.m. because there is so much summer sunlight you can see for miles and miles and miles — that's an Adventure. How about trying to avoid being picked up and carried off by our state bird, the mosquito? Adventure!
But what about the people who are not from Alaska? Each year, about 2 million folks plan, sacrifice and save their money to visit the Last Frontier all in search of — you guessed it — Adventure.
And many times, these travelers find themselves making their dreams a reality with a business where Adventure is literally its middle name.
High Adventure Air Charters has been in the business of offering people the time of their life for 34 years. The company is based in Soldotna, in the heart of the Kenai Peninsula, a place known for Alaska-style adventure. With more than a quarter century of safe, reliable service, this outfit offers something for everyone, flying more than 30,000 square miles over rugged mountain tops, dense forests and icy valleys.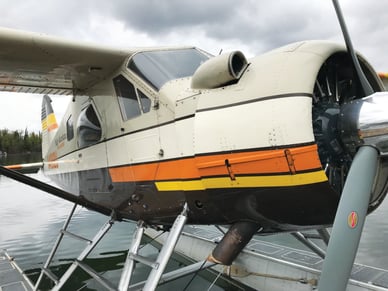 For many, just getting aboard a small floatplane is an exhilarating life experience. High Adventure takes guests into Alaska's most spectacular country, offering personalized flight-seeing tours of Mother Nature's top attractions. Fly through the heart of massive ice fields or so close to volcanoes you can almost reach out and touch the mountain.
High Adventure Air Charters is also all about family. The Bell family started the business back in 1985 with patriarch Duane Bell's tremendous love for flying. He passed his passion for flying onto his sons, Greg and Mark. Both are pilots as well as outdoor guides for fishing, hunting, bear viewing and sightseeing.
"Being born and raised in Alaska, we enjoy hunting and fishing," says Greg Bell. "It's a rare opportunity to make a living doing what you love."
They run the day-to-day operations while their mother, Sandy Bell, handles the office along with operations manager Maddy. In addition to Greg and Mark, High Adventure employs two more pilots and nine guides, all fully qualified.
When I visited, everyone was prepping for the busy tourist season ahead. They operate three, seven-passenger DeHavilland Beavers, the workhorse of Alaska's backcountry. With just a four-month season, the company works to make the most of it.
It's a lot of effort and requires very long hours, but Greg says, "We do it because of our love of flying. The best part is getting to share Alaska's beauty and adventures and showing our clients a good time."
The company has been accredited by the Better Business Bureau for more than 25 years. They understand the importance of BBB's standards of trust — to them and their clients.
"Trust is what we strive for, from our customer service to the care and maintenance we put into our planes," Maddy says. "Our guests are trusting us with their money, their adventure and their lives; maintaining trust is the highest priority for our company."
Clients have a lot at stake when they're looking for Alaskan Adventure. People travel, not just from the United States, but from around the world looking for a once-in-a-lifetime experience. They want to know their trust is well-placed, and BBB Accreditation provides that.
Trust can be of particular value and importance in adrenalin-seeking vacations. High Adventure's professional guides put safety first while offering up a front-row, boat-side seat to wild and real nature, such as a visit to see Alaska's iconic brown bears fishing for salmon. After all, the bears, which are some of the largest in the world, catch spawning salmon in their mouths or chase and pin them with their gigantic claws.
And gigantic is no understatement. In coastal areas, males average eight feet in height and weigh about 900 pounds. But the really big ones can tower 10 feet in height and weigh as much as 1,500 pounds — or about one-and-a-half times as heavy as a grand piano.
It's up close and personal Alaska bear viewing without it being "too personal." And yep, that's Adventure!
Instead of watching bears fish, many try their hand at grabbing their own.
Pull on hip waders and walk into cool, crisp glacier-fed waters and cast a rod for a chance at landing a trophy rainbow or an Alaskan king salmon! High Adventure provides the bait, tackle and poles, the fish provide the Adventure. And if you forget to get your fishing license ahead of time, no worries. High Adventure has you covered at their shop.
With so many adventures to choose from, it can all feel overwhelming, but Greg reminds everyone that there's no bad choice.
"Just about every trip is our favorite trip," Greg says.
At the end of the day, the Bell family and their employees do what they do because they love living that Alaska spirit of adventure. Greg and Maddy agree, the reward is in their clients' faces.
"We live for giving guests that experience of a lifetime," says Maddy, "and seeing the joy on their faces when they come back from flying."
See more stories like this from our latest edition of In Trust here.