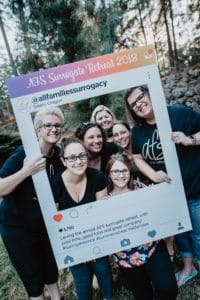 It is a real-life struggle for millions of families across the U-S -many of them wanting children but unable. Carey Flamer-Powel and her wife were one of those fa
milies until they had their daughter in 2011 all thanks to a local fertility clinic and a gracious donor.
"It was such a life changing and wonderful experience," Carey said during a sit-down interview inside her small Portland office.
Soon after her daughter was born, Carey wanted to make the experience real for other same-sex couples. So in 2014, she opened her own surrogacy agency, All Families Surrogacy (AFS), in Beaverton. Starting with zero clients, AFS had a full clientele in three-months' time connecting families across the globe with surrogates in the USA.
"We've seen inquiries coming in from intended parents and surrogates saying that one of the reasons they contacted us is because they saw the BBB award and seen the reviews online," Carey said. "It signifies to us that we are on the right track when it comes to ethics, dedication, and passion with our business."
Winner of the 2017 Better Business Bureau (BBB) Torch Awards, Carey credits BBB for helping her foster a better business, giving clients extra assurance when walking into her front door.
"What we feel we bring to the table is true dedication. We make sure that relationships with our agency, surrogates and the parents are really solid and strong relationships that continue for years to come," Carey said with a smile.
Surrogate, Susana Standish, said the bond she developed between AFS and her surrogate family is unbreakable. Trust was the differentiator when finding the right clinic.
"I just really fell in love with the family that I was carrying for throughout the process," Susana said during an interview with BBB. "Our families just meshed. It couldn't have been any better."
For Carey and AFS, the future looks bright. Her team has grown as well as the number of families AFS has helped create. It's something she's very proud of – especially as a BBB Accredited small business owner.
"I absolutely would say that anyone who wants to start a small business, you contact the better business bureau – seek accreditation – seek all the resources you can in your community," Carey tells us. "And the Better Business Bureau is definitely a huge resource for small businesses."