Daniel Arita fondly remembers the trips his father took him
on to Alaska, Europe, and different locations around the world. The incentive
trips were rewards for the hard work by Arita's father and the team at The
Carpet Shoppe. Daniel says, "the trips were because of the business. Everything
we had, including my college, was because of the company". Daniel understood
how hard his father worked to support him, his mom, brother, and sister.
Daniel started working at his father's company when he was
14-years old. While in college in San Diego, he realized his dream of working
in the surfing industry wasn't for him. He returned home and joined the family
business.
David Arita formed The Carpet Shoppe in 1974 with five
employees in Kalihi. The company's name changed to American Carpet One (ACO) in
1994. And it has grown, no longer just a carpet company, current products
include carpet, hardwood flooring, laminate flooring, Karndean flooring,
ceramic tile, custom drapery, and blinds and installation of the products.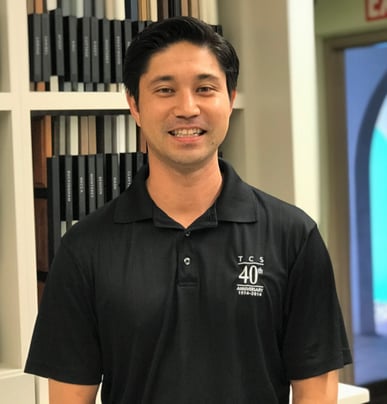 The next step for ACO is the remodeling world of kitchens
and bathrooms. ACO recently secured its general contracting license and added
an experienced contractor to the team. Cabinets and appliances add a new
dimension to the business model and increase staff with kitchen and bath
designers. As well as flooring and window treatments, the new line will include
cabinetry and Miele appliances. With the new adventure comes increased showroom
and storage space. ACO will build a second floor on top of the existing
structure and expand downstairs as well. A new name is in the works for the
company as they continue to expand beyond carpeting.
The company's new model provides a needed service on the
island of Oahu. With Oahu homes growing older, the need for remodeling increasing,
and general contractors in high demand, the one-stop product and installation
shop offers an option to expedite the process. The process is easier and requires less
coordination from the homeowner who wants to remodel a kitchen or bathroom.
The ownership of ACO changed in 2014 when it became an
employee-owned business. The business model allowed for more structure, motivation,
and perks for employees and an exit strategy for David. Currently, ACO has over 130 employees and
anticipates increasing the number with the addition of the kitchen and bath remodeling.
Adapting to the ever-changing market is key for the survival
of any business, and American Carpet One strives to stay a step ahead. David
and Daniel Arita, have grown ACO and steered it on its current path, from a
carpet store to a home remodeling showroom. The family trips taken by father
and son have paid off for both of them and the employee-owners of American
Carpet One.