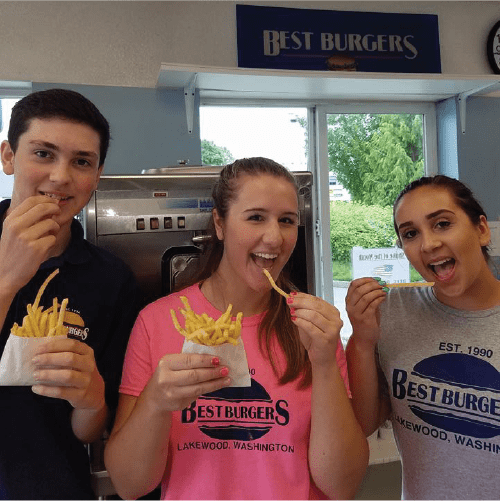 Autumn is a busy season for most families. Kids go back to school and their numerous activities start while summer vacation ends. As activities and obligations begin to fill the calendar, cooking dinner can often get pushed down to the bottom of the to-do list.
Everyone knows the convenience of fast food, but with all the options out there, how can we be sure that the one we choose offers quality food for our families while still operating a business with integrity in mind? That is where Better Business Bureau Accredited Business, Best Burgers of Lakewood steps in.
Best Burgers of Lakewood opened in 1990. For the past 17 years, they have been operating as a family-owned fast food business serving burgers, chicken and seafood. What is unique about Best Burgers is that owners Nancy and Terry Flajole have owned and operated the restaurant throughout its entire existence. Their son David continues this family tradition, having taken on much of the day-to-day operations. All of them have built their business into what it is today—a place where customers come for a good meal and turn into family.
"We've had customers that have come in car seats and now they are graduated from college and still coming to Best Burgers. It's definitely a generational thing," said owner Nancy Flajole.
Newly Accredited with BBB in 2017, Best Burgers has upheld standards of trust since their opening. Aside from making sure customers are always happy with the service and quality of their meal, the Flajoles are committed to buying their products locally and practicing environmentally sound operating procedures, all while offering their extensive menu for a fair price. For the Flajoles, becoming BBB Accredited just made sense.
"We are a family run business that has been run with integrity from day one. We want to reflect that in what people think of us," said Flajole.
Aside from taking great care of their customers, the Flajoles also look for employees who meet the mark. Throughout the years, the Flajoles have employed several sets of siblings, a young lady whose daughter became a Best Burgers employee years later and all different kinds of young workers. What these Best Burgers employees have in common, however, is their commitment to great customer service.
"We have been blessed with great employees throughout the years," Flajole said. "That has helped us become what we are today because quality food and customer service are our two goals."
This commitment to quality and customer service is what has made Best Burgers a staple in their community for the past 17 years. As they continue to grow their business and watch their son carry on their success, one thing will remain the same: the Flajoles will continue to uphold their firm standards of integrity and trust, partnering with BBB along the way.