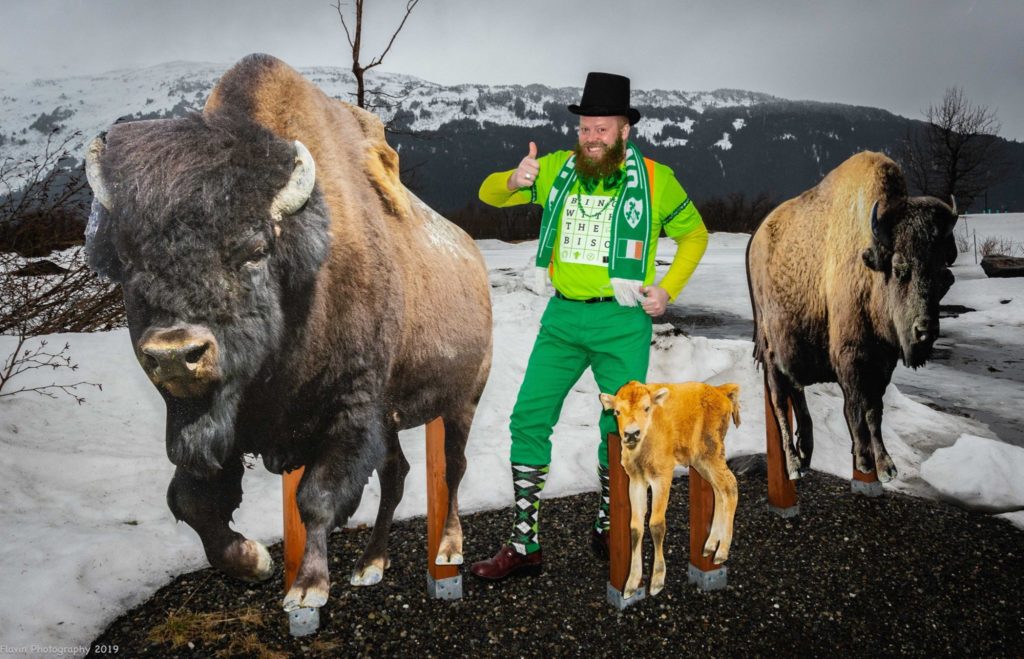 I have had the chance to be involved with a lot of different
charities over the years. I believe giving of your time creates a certain joy
that one does not get from other day-to-day pleasures. This is a story about
the Anchorage Chapter of the Alaska Travel Industry Association. We have done several
different fundraisers for our chapter over the years ranging from a city night
lights bus tour during the holiday season, to our monthly luncheons and a miniature
golf tournament. But one of my favorites is our current chapter fundraiser
called "Bingo with the Bison". It starts with copious amounts of planning to
put a party like this together with dozens and dozens of man-hours getting
permits, placing calls and emails, acquiring prizes for the winners and coordinating
logistics. There is so much work that goes into an event like this that it
takes a small army, with a lot of other people donating their goods, services
and time. This year we planned it around the St. Patrick Day holiday, who
doesn't love a good theme party right?! (My name is
Sheron Patrick, after all!)
To kick the day off, everyone met downtown where the motor
coaches where waiting to take us to the Alaska Wildlife Conservation Center
(AWCC) down in Portage, which is about 50 miles south of Anchorage. Once we
boarded the buses and got on the road, we played a couple of games to liven up
the crowd and break the ice since there were lots of "new-to-you" faces. Upon
arrival at the AWCC, we had a staff member jump on board the bus and give us a
personal tour around the conservation center explaining all their different
animals: bear, moose, elk, wolves, bald eagles and, of course, bison before
going into "Bison Hall" to play bingo. Once the tour was complete we were fed a
delicious dinner of traditional corned beef and cabbage just like mom used to
make.
The bingo games got underway after dinner with prizes to be
won that were out of this world! Glacier Tours, flight-seeing tours, gift
certificates to spas, restaurants, hotels, first class airline upgrades, rail
road tickets and even a mink fur scarf! We also played another game called
"Heads or Tails" where you have on a beaded necklace and decide if you want to
put your hands on your head or your tail. A coin is then flipped and if it
lands on tails and you picked tails you are still in the game, or if it was
heads you would take off a necklace and keep going till you are out of
necklaces or you were the winner!
All in all, this was a terrific fundraiser to support ATIA's
annual scholarship and to promote sustainable resources like tourism. Since I
am very Irish, and the event was held on St. Patrick's weekend, I even brought
out my inner leprechaun! Fun was had by all and I am proud to say that I work
with individuals and companies alike, whose goal is to keep Alaska's tourism
economy flourishing.