Before the full effects
of Hurricane Dorian could even be assessed, companies were already leaping into
action. The Coca-Cola Company had pallets of Dasani water on the ready. Sprint
and Verizon announced they'd be waving text and data overages. Kohls, Disney
Cruise Lines, Lowes, Home Depot… the list goes on and on.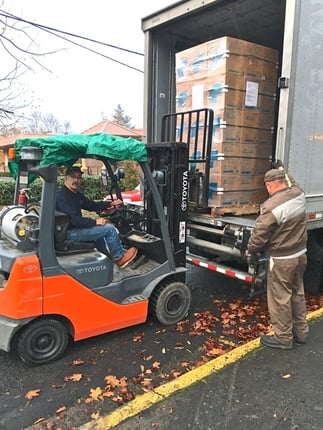 More and more companies
are recognizing social good is good business. But it's not just the Toms of the
world that are jumping into the philanthropic mix. Smaller businesses, like BBB
Accredited SilverFire Disaster and Recreation Products, are also donating their goods or services towards
positive social change.
In 2017, following Hurricane
Maria, SilverFire partnered with UCEED in San Juan Puerto Rico, a sister
program of the University of Oregon, to distribute off-grid stoves to families
with developmental disabilities. This allowed them to cook and sanitize water
following a devastating disaster that left millions of people without power.
SilverFire owner, Todd Albi, also flew down to offer stove training to
survivors like Isabella and her wheelchair-bound father (pictured above). They
nearly drowned after Hurricane Maria sent six feet of ocean water rushing
through their home. The stove she received from SilverFire was the only source of
cooked food and safe drinking water for her family and neighbors post
hurricane. Albi says he has 1,000 emergency stoves on standby that can be
deployed at any time.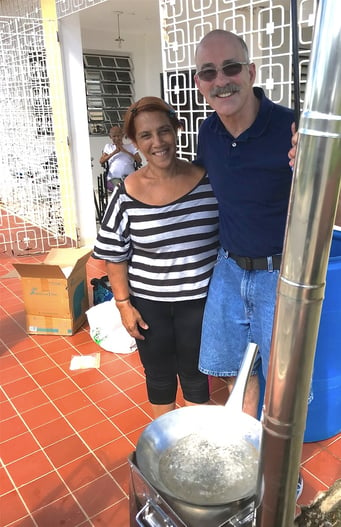 Giving back as a business
won't just make you feel good it will help your bottom line. According to a report by the CEO lead coalition, Chief Executives for Corporate Purpose (CECP), 87%
of Baby Boomers want to know about the social impact brands are making. And, if
you're looking to attract and retain the next generation of workers, having a
clear and concise social strategy might just be the key. Among those surveyed,
the millennial age group had volunteered the most with social causes (50%). The
same report found 96% of the workforce believes social fulfillment is important
and they are committed to finding it.
Companies aren't just
donating goods and services following natural disasters, like Hurricanes Dorian
and Maria, they're giving money too. The amount of corporate cash donations
towards disaster recovery is up 306% since 2015, according to CECP.
How is your business
doing good? We want to hear your story. Email me at dawn.johnson@thebbb.org.