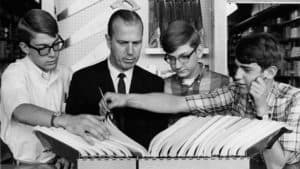 Tucked away a few blocks from downtown Portland, Chown Hardware remains a community staple as one of the oldest family owned and operated hardware companies in North America.
"Portland is a unique place," Kyle Chown, President of Chown Hardware said. "We are involved in the local community, and we really support local business."
As a Better Business Bureau (BBB) Accredited business for 42-years, Chown Hardware prides itself on building trust and customer excellence. For decades, the commercial and residential hardware store has been serving customers across the northwest.
"Our customers are everybody," Chown smiled. "We deal with a lot of do-it-yourself homeowners who want to take on the challenge, and we love that."
Chown Hardware opened for business back in 1879. While tradition is a big part of their success, Chown says the company has always been able to adapt with the times. The one thing that remains constant, however, is the quality of its people.
"My passion comes from our people. I wake up every morning and am excited to go to work," Chown said. "It's because of the 90-plus people we have working here and the amazing clients we have that keeps this company going."
The company's passion and promise are the pillars of their business. Committed to delivering the best the world has to offer in decorative fixtures, Chown Hardware credits its value in service and trust as a differentiator. Something BBB helps them do.
"It's a validation of what you say you're going to do – you actually do," Chown tells us during an interview inside his showroom. "To us, that seal of approval – that stamp from the BBB is important to who we are from the customer service side of our business."
Today the small family-owned business has grown to nearly 100 employees with offices in both Portland and Bellevue, Washington. Chown says it's hard to put into words on what it's like being a sixth-generation business. BBB accreditation, he says, plays a big part of it.
"I know what it meant to my father. I know what I meant to my grandfather. I know what it means to the company," Chown said. "I hope Chown can continue to give to BBB as much as BBB has given us over the years."