What's it mean for business?
It all started with a parking ticket. One of those
blasted blue envelopes under my windshield wiper, indicating the elusive meter
maid had just saddled me with a $50 fine before I could dash back and argue for
my precariously parked vehicle. The ticket indicated that I parked too much of
my car in the yellow zone. Which, if I'm being honest, is true.
But here's the thing, parking in downtown Bozeman
is a nightmare. A zoo. Enough to make you pull out your hair if you're a
downtown employee without a designated or paid spot. Throw in an unhealthy dose
of construction on major projects downtown, and you've got a lot of unhappy
drivers (shoppers and shop owners alike). There's the new high-rise Etha Hotel
replacing the famous armory building that stood forever a block off Main
Street. There's the swanky multi-story apartment building at the corner of
Black and Olive streets (the project is cleverly titled Black Olive). There's a
multi-use commercial/residential building going up in an east Main parking lot
already crowded with insurance shops, construction companies and a casino.
Those projects, coupled with Bozeman's rapid growth, make downtown a ripe
destination to earn yourself a hefty parking ticket.
The City of Bozeman itself illuminated the problem
in a 2017 parking study. According to the study (now nearly three years old),
only 19% of the parking off Main Street was available for public use. The city
found that 33% of parking along Main Street was available for public use, but
cars regularly exceeded the 2-hour limit, further exacerbating parking issues.
When I was ticketed, I had circled downtown for 15
minutes, looking for a legal parking space. Finally, as I was already 5 minutes
late for a Women-Owned Business Tour, I parked half of my car illegally and
hoped for the best.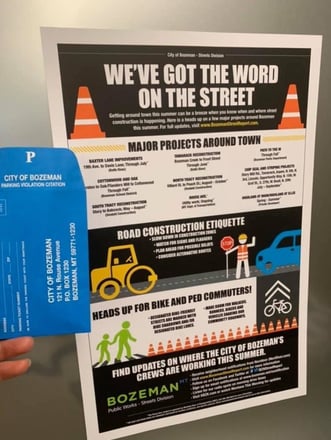 Downtown Bozeman business owners often hear
similar stories from their customers. The parking conundrum is impacting
business. Sassy Sisters, a Main Street gift shop, made the decision this fall
to move from its prominent Main Street location to somewhere less hectic. The
owners said parking was becoming too much of an issue for a business that
relies on in-store traffic.
BBB Accredited Luna Properties is facing similar
struggles at its Main Street location. Luna Properties Accounting Manager
Melinda Feliciano said it's difficult for customers to drop off a rent check
without taking an entire lunch break. By the time Luna customers drive
downtown, find parking and make it upstairs to the office, it's been much
longer than the 5 minutes they originally planned to spend. Just down Main
Street from Luna Properties, BBB Accredited Treasure State Hostel also battles
diminishing parking options. With guests arriving from all over the world,
thankfully some of the hostel guests use public transport or a ride-hailing
service.
In Helena, city officials recently installed pay
parking kiosks (Missoula and Billings already use them), to try to manage
downtown parking. Helena downtown business owners said customers were not
happy. At the General Mercantile, a popular Helena coffee shop, the owner
worried that a $1.75 cup of coffee will now cost customers a dollar more after
they pay for parking.
As growth remains a strong indicator of Montana's
buoyant economy, it brings challenges, like parking. For some, relocating to a
quiet corridor of town helps restore business. For others, time will tell what
move makes the most sense. And for the driver rolling the dice on a parking
spot, beware. The meter maid is always lurking!