When the roof is
falling down, literally, and you don't know how to keep your home intact after
the snowiest winter in recent memory, it's easy to panic. That's what I did
anyway. On a recent spring morning, snow finally thawing, birds tentatively
chirping, I woke up early for my coffee and went to stoke the fireplace (yes,
we keep ours burning until about June). As I walked into the living room, I
felt a drip, drip, drip on the top of my head.
I looked up and
shrieked. All along the ceiling we're bubbles bigger than my forearm. The bubbles,
filled with water that had seeped through the drywall from the snow saturated
roof, were about to burst. Some already had. The floor was wet. The walls were
wet. The ceiling was in complete shambles. The house seemed ready to topple.
I panicked. And then
I called the first restoration company I could think of: Buffalo Restoration.
There are a few reasons Buffalo Restoration came to mind so quickly that
Tuesday morning. First, I recently had the pleasure of speaking with owner Ben
Yanker. I had been after Ben for weeks, trying to take him to lunch and beg his
opinions about the business community in the Gallatin Valley.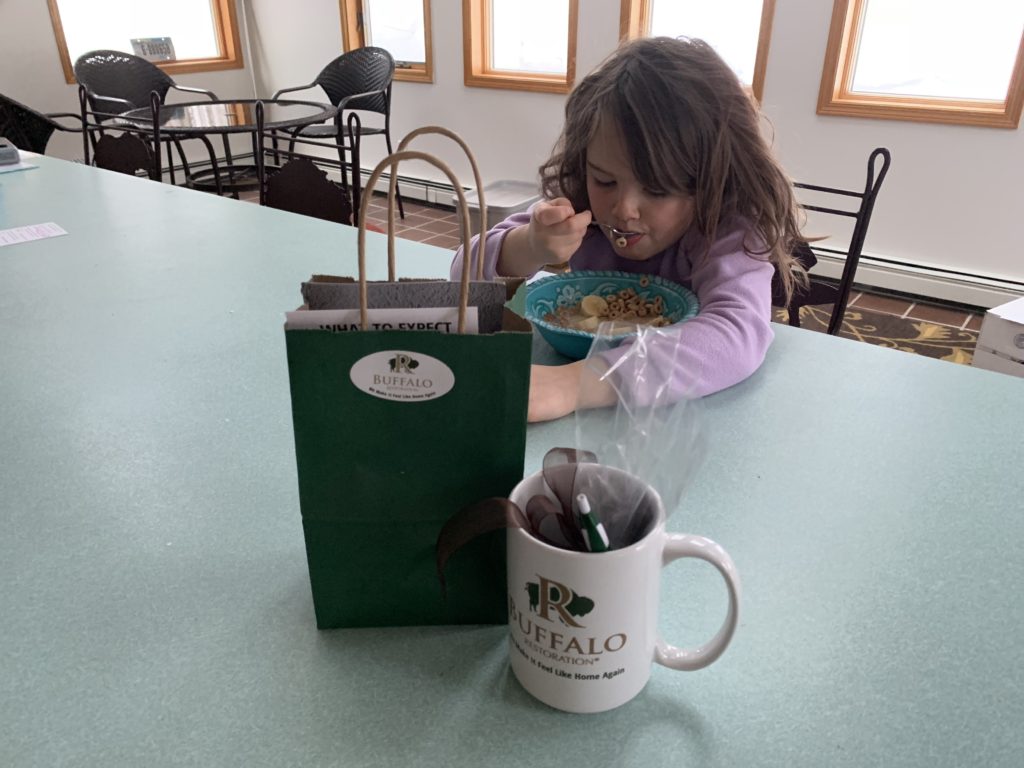 You see, Buffalo
Restoration is a BBB Accredited Business. In addition to meeting our
accreditation standards and conducting business ethically every day, Buffalo
Restoration has roots in this community. It's been in business for 27 years and
accredited with the BBB for 5 years. In short, they're the kind of people you
don't feel nervous inviting into your home. Especially when it's a disaster
zone.
When the Buffalo
Restoration crew arrived at our home, they were courteous and immediately took
my anxiety levels down approximately 167 notches by assuring me that: 1. My
house would not topple down. 2. They could clean up the disaster zone and get
the house completely dried out for drywaller to come and fix the walls. This
top-notch customer service was offered quickly, but with empathy. After the
Buffalo Restoration workers cleaned up the area and plugged in industrial fans,
they left behind a card with the technician's name as well as a coffee mug, a
few treats, and a pamphlet of additional information.
The enormity of what
peace of mind meant that day didn't sink in right away. In fact, it wasn't
until I was sipping coffee a few days later, watching my daughter eat a bowl of
cheerios at the counter that I fully understood the gift Buffalo Restoration
had given me. It was the gift of feeling safe in my own home again.
I am proud to have
Buffalo Restoration as a BBB Accredited Business because they exemplify
everything we stand for here at the Better Business Bureau. They were truthful
about the problem and the cost to fix it. They built my trust from the first
phone call to the final moment I closed the door behind the technician. They
were responsive to my concerns and treated me fairly throughout the entire
process.
Who's your trusted business this week? If you don't know who to call when disaster strikes home, please visit us at bbb.org. You can find a business to trust today, tomorrow, and long into the future.