Pounding
the djembe drum became my focus. With each pound of my hand, I felt the
pressure release and relaxation begin. I would close my eyes, listen to the
pounding of the instructor, repeat his pattern. I almost forgot I was in the
room with over 190 women, who also were pounding the djembe drum. As we hit the
djembe in unison, the women of Executive Women International, came together in
harmony. This was the end of day three of our four-day leadership conference
and annual meeting, LCAM.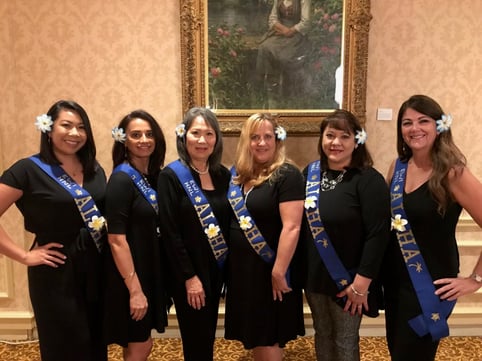 I think
Lucille Johnson Perkins, founder of Executive Women International, would have
enjoyed the comradery at the meeting. Perkins was ahead of her time, when she
started an organization in 1938 for women secretaries to network. Women's roles
have changed over the years; however, the need for relationship building and
networking hasn't. EWI brings together key individuals from diverse businesses
to promote members' firms, enhance personal and professional development, and
encourage community involvement. EWI members call it the three C's,
Connections, Careers, Community.
Every year
the EWI chapters in the United States and Canada attend the Leadership
Conference and Annual Meeting, and this year we met in Milwaukee,
Wisconsin. LCAM begins with training for
incoming chapter presidents and vice-presidents. As the incoming EWI of
Honolulu president, I am excited and nervous about the upcoming year. I also knew
the training I would receive there would be valuable.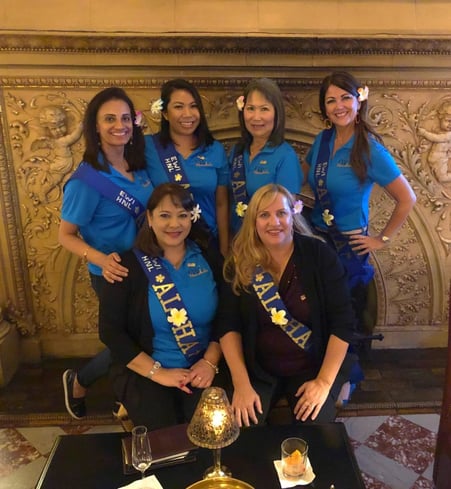 The first
day started with a reading rally at Nextdoor Milwaukee, an early development
education center, focusing on Milwaukee's disadvantaged children. With cash and
book donations, we showed up with over 2,200 books, a rug, a check for $500,
and 81 volunteers to read to the children. I had the privilege of reading to
two young children, Timon, and Ariel, who listened intently to the stories.
Ariel knew the stories and would let me know what was coming up on the next
page. Her eagerness to learn was evident
by the sparkle in her eye as we turned the pages. Each child went home with a
brand-new book.
LCAM offers
Academy of Leadership programming, and the two modules offered were Emotional
Intelligence and Lessons in Leadership.
In the Emotional Intelligence seminar, we studied ways to be a more
effective leader with understanding and empathy. Keynote speaker Karen
McCullough discussed generational issues with great insight and humor. With the
workplace environment ever-changing, understanding the differences between baby
boomers, Gen X, millennials, and Gen Z, will be imperative for companies and HR
departments. Each generation has different priorities and different motivating
factors.
LCAM is the
time to celebrate the corporate and local chapter successes with an award and
recognition ceremony. Of course, we had
to have fun as well. The first night social was a pin swapping and bingo card
event as well as a sash event. Each chapter brings a pen, sticker, or item and
a decorated sash representing their location. The Hawaii chapter shared flower
leis, which were perfect for everyone as the next night was a luau. We took 3rd
place in the sash design competition and 2nd in the trivia competition during
the luau. The comradery with our chapter and the other state chapters was a
highlight and hit home for me the connections side of the EWI three C's.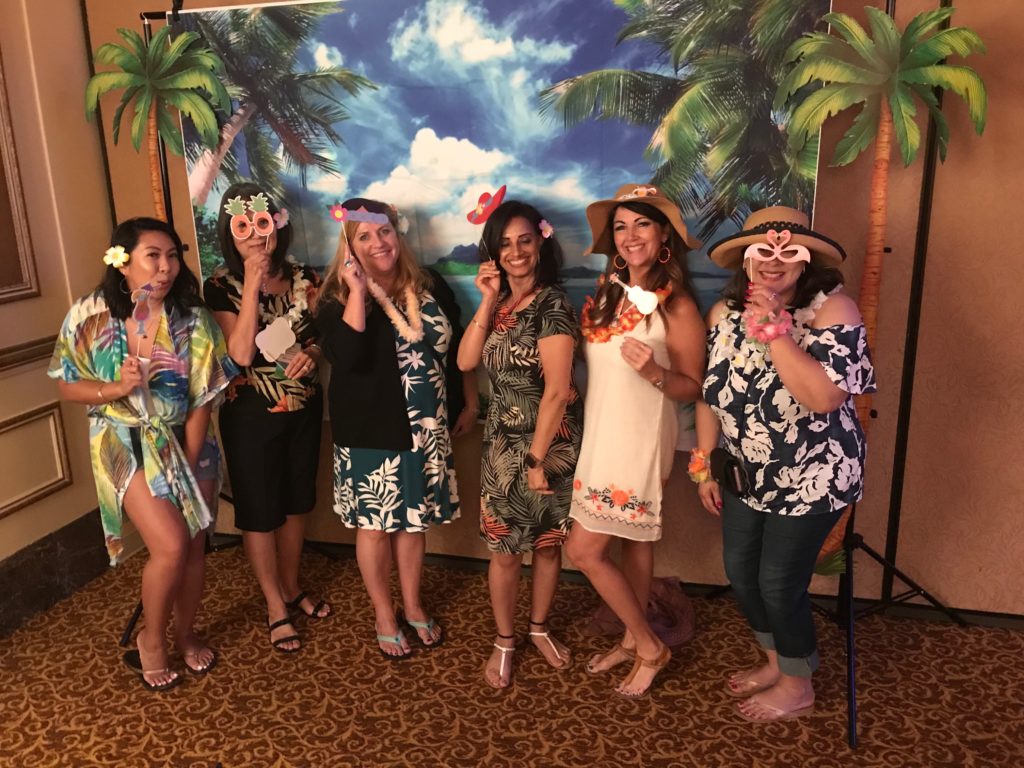 By the end
of LCAM the fast-pace schedule and four-hour time difference left me exhausted,
however, I wouldn't have missed it. This event encompasses the three C's of
EWI, Connections, Careers, and Community, and I went home having worked on all
three.
I'm excited
for my upcoming year as EWI of Honolulu Chapter president and looking forward
to what we can do here in our local community. EWI Honolulu has 45member firms
and 47 representatives. Come join us as we drum in unison in our mission of
Connections, Careers, and Community.