We all have had pets at one point of our life or another. Whether it was a family cat, maybe a classroom fish, or reptile. I myself am a self-proclaimed weirdo and have had a parakeet most of my life, and of course there is "Man's best friend" or nowadays "Everyone's best friend". I had a road trip down south to Soldotna this week and got to meet about 30 different "Everyone's best friend". These four-legged wagging tail lovers at The Blue Moose Animal Therapy Center were a delight and of course so happy to meet someone new.
I met Artin, the General Manger and she gave me the nickel tour
of their very expansive facility as we were followed by a pack of canines who
all wanted to be apart of whatever we were doing, and wherever we were going.
As we continued to be smacked to death by all the happy tails Artin went to
tell me all the services they offered. Not only do they offer day care,
overnight and vacation boarding seven days a week they have a programs that
work with Veterans that have PTSD called "Healing Hearts", people with anxiety
disorders, people that are afraid of dogs, they work with the Alaskan prison
system to help inmates who are transitioning back into society and my favorite
was "Canine Care Camp for Kids". This is a group of 2nd graders that
come four times a year and they incorporate science, biology reading and math.
The kids learn how to take care of the dog, measure their ears and tails, they
even read to the dogs!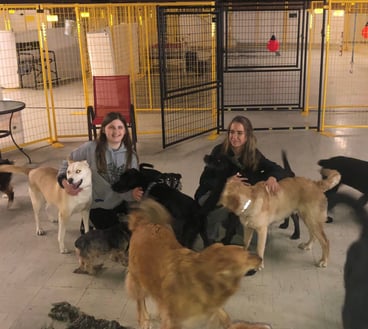 Artin told me that the owner Ellen Adlam has a real sense of
community, "She kind of became an activist and wants to make sure that she
gives back to not only the Veterans who are suffering from PTSD, but the other
issues that people might have. Dealing with the dog's people just open up
naturally when they are around them."
If you are in Soldotna, or just driving through then stop by
the Blue Moose and those barking furballs will put all your worries at ease.