For more than 30 years, one Montana family has
been selling adventure. Wayne Fredrickson started his RV business selling
campers on consignment and placing ads in the newspaper. As Wayne built a
reputation for quality products and good prices, he bought more RVs and expanded
his operation.
Today, Wayne employs 52 people, including his son
Donovan and daughter-in-law Kelsie at Big Sky RV. The Bozeman-based business is
a major retailer for popular brands like Jayco and Winnebago. Donovan recalls
his dad selling the only two models of Jayco RVs available in the early 90s.
Today, Donovan says buyers' choices are almost limitless.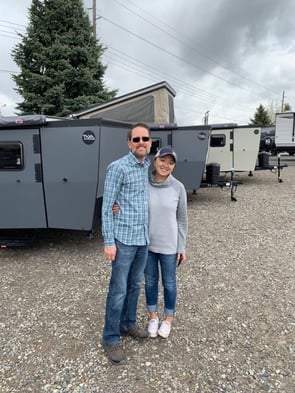 "There's way more product than when we started,"
he explains. "Jayco now has over 200 models to offer."
The Fredrickson family has adapted to many other
changes in the camping world as well. They now offer lightweight, popup campers
that can be towed behind cars. And for the first time, Big Sky RV will stock a
few models of campervans this summer that are wildly popular with younger
customers.
"There is a lot of variety in the buyer today,"
Donovan says. "We are certainly challenged trying to meet the changing buyer
and environment."
Though customers' preferences change throughout
the decades, the Fredrickson family's commitment to service never wavers.
"We really do care," Donovan says. "We'll do our
absolute best to make sure the ownership and buying experience is second to
none."
Big Sky RV has been a BBB Accredited Business for
almost six years. Kelsie says it just makes sense to align the Big Sky RV brand
with the Better Business Bureau.
"BBB is a great organization," Kelsie says. "It
gives people tools to see what companies are like. We don't always know what's
going on. As humans, we tend to make mistakes, so we enjoy the fact that we get
the chance to talk to our customers and make things right."
Whether customers are looking for a fifth wheel,
truck camper, toy hauler, motorhome, campervan, or travel trailer, the
Fredrickson family has it. Roadmap for the perfect adventure not included.
"I always think of RV-ing as a family sport,"
Kelsie says. "It's our family helping families find time to get away. You hook
up, you head out. There's no set plan. We love taking our son camping and
sharing those memories together, too."
As for the future of Big Sky RV, Wayne enjoys
passing the baton to Kelsie and Donovan and hopes they see many more decades in
business.