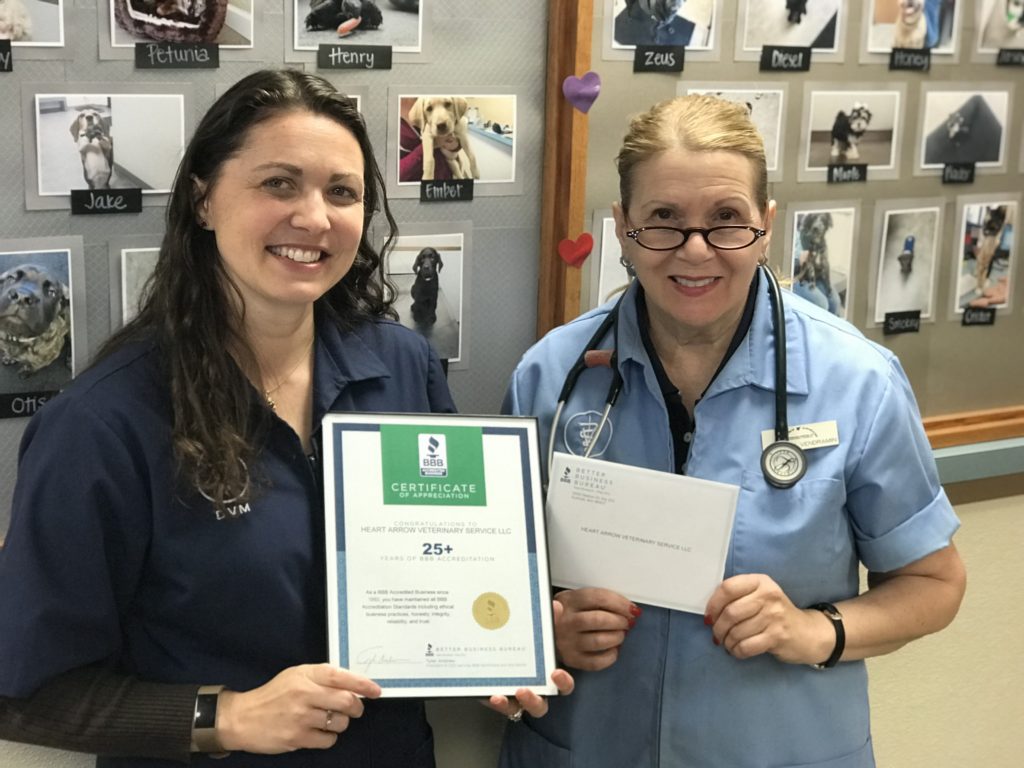 Cupid pulled out all the stops for Heart Arrow Veterinary
Clinic. With a name as full of love as February itself, it comes as no surprise
BBB is celebrating 25 years of Accreditation and Pet Appreciation Day with this
pair.
Your pets are more than just a friend, they are family members. They trust their owners to make sure they are healthy and happy. And Heart Arrow Veterinary Clinic is all about making sure that trust is well-placed. Just this week I was able to honor them for upholding the Better Business Bureau's standards of trust for the past 25 years.
The staff told me about the culture and history of Heart
Arrow Veterinary clinic, which was established by Patrick O'Dea in 1978. The original location was on Sprague Avenue
in Spokane Valley. But in the 1980's the
clinic moved to an old auto junk yard (no junk yard dogs here though). They cleaned all the old cars and junk out
and it's been their home ever since. It
became a family business when Dr. O'Dea's daughter, Dr. Megan McElroy, joined
the practice after graduating from Washington State University, College of
Veterinary Medicine in 2002. The
affection for our four-legged friends is obvious from their culture in person,
and even from the pages of their website.
As I spoke with Dr. McElroy it was clear that being
accredited with Better Business Bureau was important to her and her practice because
it shows her current and potential customers that operating with trust,
integrity and reliability are important. That's why I wanted to honor them for their 25
years as a BBB accredited business. I
also brought some treats (for humans), a letter from our CEO and a certificate
celebrating their 25 years of accreditation.
Thank You, Heart Arrow Veterinary Clinic, for 25 years of
and upholding our Standards of Trust. We
look forward to another 25 years.
You can find them online: www.heartarrowvet.com