Hawaii has many golf courses, and of course, the weather is
perfect year-round. I don't play golf; however, I do volunteer at
tournaments. The 24th Annual Executive Women International golf tournament
was my eighth year volunteering, and I had a great time.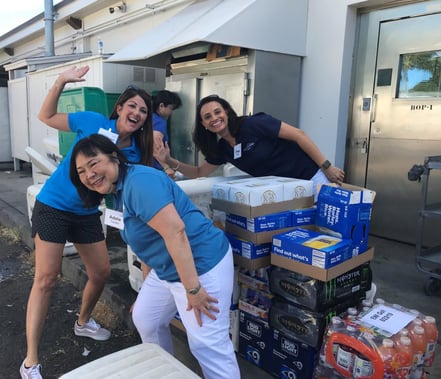 The EWI golf tournament raises funds for two scholarship
programs, EWISP for high school seniors, and ASIST, for adult students in
scholastic transition. This past year EWI gave away $20,000 between the
two scholarship programs. My passion project this year was the ASIST
scholarship program, which culminated on July 13th with the awarding of
4-scholarships totaling $10,000. It couldn't happen without the support of
events like this tournament.
My day started with loading up the carts and coolers with my
EWI sisters. Given that it was a scorcher of a day, it was good to have
this task finished early. Around this time, the golfers began to arrive
and collect their registration packets, lunch, and network before the 11:30 am
shotgun. The participants, representing many companies, were a mix of new and experienced
golfers. The tournament started on time, with 126 golfers going out
to their assigned first hole.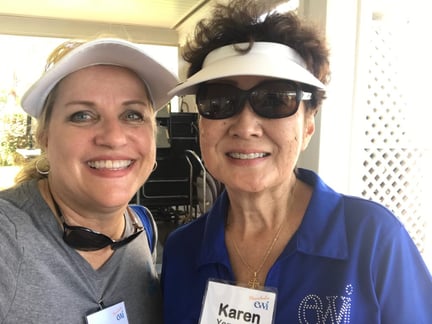 My assignment was to accompany the Waikiki Prince Golf
Course driver, Marnie, on the refreshment cart. I had an opportunity to
thank the golfers, as well as talk with our BBB Accredited Businesses. Given
the high temperatures, we replenished the cart with ice, Gatorade, beer, and
water frequently. The key was to keep the golfers hydrated, since they were on
the course for over five hours. Lucky for me, Marnie is a pro at navigating the
course, and we didn't hear the warning "Fore" once.
EWI member firm Tiki's Grill & Bar's executive chef
Ronnie made Fish Poisson Cru and served it in a house-made taro cone. On the menu at the EWI member comfort station
was chili, hot dogs, chips, and ice cream. The golfers were fed well
before, during, and after the tournament.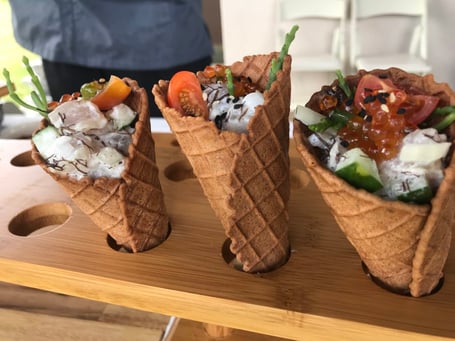 After 18-holes of golf, everyone was ready for dinner. During
dinner, Michael Choi handled emcee duties and handed out prizes for placement,
closest to pin, longest shot, and more. The golfers came from Oahu, Maui,
and California, had a great day, and raised funds for a good cause.
As an EWI member, I enjoy the golf tournament as much as the
golfers. It is an opportunity for us to spend the day with my EWI family,
laugh, network, and raise funds for a great cause. Next year, on August
28th, it will be our 25th annual EWI golf tournament. Mark your calendars
and join us for a great day, even if you don't play golf.