Getting to work in the six-o-clock hour isn't always my idea of fun. But on this day, we weren't going into the office – We were heading down to the Boise River to meet Mike Sandifer and do a little fishing. Well, we were going to watch Mike do some fishing, and capture it all on camera.
Mike is the owner of Northwest School of Fly Fishing, a BBB Accredited Business in Boise. To say this is his passion, would be an understatement. Not only is he experienced, teaching himself at a young age, and professional, teaching others on a daily basis, but the smile that comes across his face as he's standing in the river while the sun rises, tells you everything you need to know.
We watched Mike assemble his rod, all the gear he needs is right there attached to him. Then he gets into the rhythm, the rhythm of the rod. This isn't a sit back and wait for a bite kind of fishing. It's constant moving, casting back and forth, walking up and down the shoreline. Mike studies the current, the fish and the insects on top of the water. He changes his fly on the end of his rob accordingly.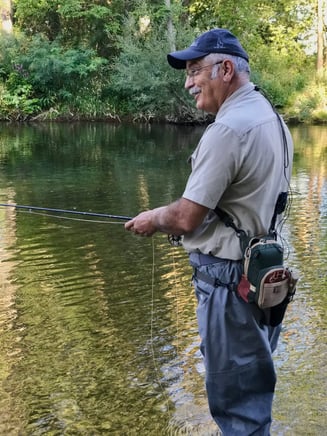 Flies are a big part of fly fishing, it's in the name. But
it's also part of Mike's business, known as the Fly Box. Local fly makers are
able to sell their flies in his shop. It keeps the money in the community, Mike
explains.
Mike's customers are a community of their own. They all walk
in with a smile and a question for Mike. They need his expertise and Mike is
happy to give it. He knows them all by name and their kids names, and their
sports activities. Customer service is something Mike holds high in his
business, learning everyone's name and greeting them as they walk in.
Martha Sandifer, Mike's wife and co-owner of Northwest School of Fly Fishing, confirms Mike's passion, it's how the business started. Mike was a businessman in Boise but when Martha told him to do what he loves, Northwest School of Fly Fishing was born.