When I walk into the Oomingmak Musk Ox Producers
Co-Operative in Anchorage it reminds me of my grandmother's and even my
great-grandmother's house. There are generally a couple of ladies sitting there
talking, enjoying each other's company, knitting away, making hats, scarves,
smoke rings (like a Baclava) stoles and tunics. This co-op makes the connection
between Native Alaska and the rest of the world.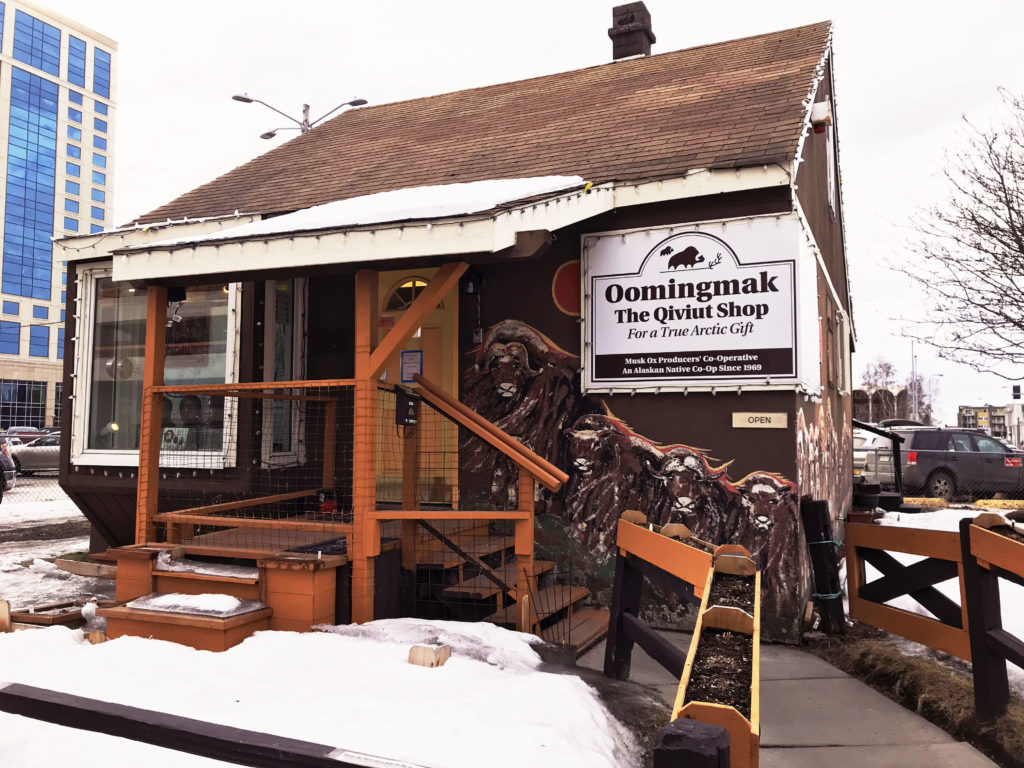 The co-op began in
1969 and its members are Alaskan Native men and women, who live in the remote
villages of Alaska. They originated the
production of Qiviut (pronounced KI-VEE-UTE) items. The remote location of the
villages makes it extremely expensive to start businesses and maintain a profit
margin. Because of this, there is a lack of available jobs for most local
people. Many end up leaving the villages
to get a job that provides an income that can sustain a family. Knitting the
beautiful, handmade Qiviut allows them to earn a supplementary income to
enhance their mostly subsistence lifestyle.
Qiviut is the Yupik word meaning 'down' or 'underwool'.
Qiviut was the spelling adopted by the Co-Op in 1969 and is the most well-known.
In the spring the musk ox naturally shed their qiviut, allowing them to cool
off in the warm summer weather. People in areas where the musk ox are wild will
find the qiviut on the ground or in bushes where musk ox rub up against the
trees while they are eating. It can take
three to six years to collect enough fiber, spun into yarn, for an article of
clothing. The co-op's first workshop was held in Mekoryuk, where the original
25 members knit a pattern based on a carved harpoon head.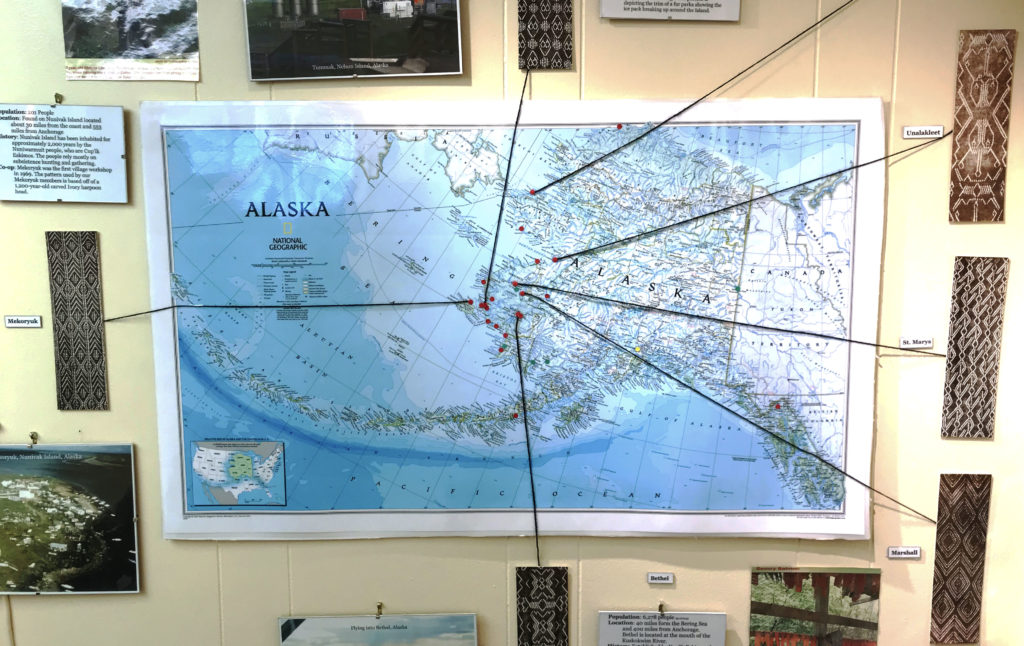 The knitters use this wild-gathered wool to make the
beautiful designs of the Qiviut. The wool is both incredibly lightweight and
incredibly warm. The quality, beauty and
durability are uniquely Qiviut. The Oomingmak Musk Ox Producers Co-operative
maintains those standards, proven through 27 years of accreditation by the
Better Business Bureau. There are ten different patterns to choose from; each
pattern represents one of the original knitters' Native villages. The Qiviut are shipped around the world but they
can only be purchased from the co-op right in Anchorage.
Oomingmak is celebrating its 50th anniversary. Manager Hillery Baerny told me they are all
excited at this milestone in their journey, "helping out knitters and Alaskan
Native people continue to live the subsistence lifestyle." Fifty years on, the co-op still has that
wonderful quaint feeling, where you walk through the door and immediately feel as
though you're visiting grandma's house.