Scammers have been around, literally, for eons. Historically, they've relied on a somewhat naïve,
lazy, or complacent public to steal personal information and hard-earned
money. We've called them scams,
rackets, hoaxes, snake oil-salesmen. And
though the names have changed, the practice has not. BBB has seen so many scams come and go over
the years we really could say they are older than "sliced bread". Machinery to slice bread was first attempted
in 1912, coincidentally the same year the Better Business Bureau was
established.
In Spokane, the history of Better Business Bureau can be
traced back to one day, April 29, 1929, where the first articles of
incorporation were filed with the state of Washington, making our office an
affiliate with the National Better Business Bureau. Though the local office existed prior to
that, all those records were destroyed in a fire at the Desert Hotel.
But the history preserved in the records we do have is amazing. They provide vivid snapshots
of the time and the communications between BBB Spokane and the national office.
Typically, the communiques focused on
unethical business practices and, of course, scams. Titled "CONFIDENTIAL REPORT", they were
ultimately meant to be distributed and reported to local media.
Looking back through the history, a couple of stories from
the '50's stand out. One was about an
electric hot dog machine. A large number
of people were duped into thinking they could use this equipment to warm hot
dogs, in the bun, and make money from it.
The report described, "citizens who were too slow to investigate and
paid $1,000 for machines that heat hot dogs in the bun now learn… such machines
cannot be operated in Spokane (without) a restaurant license."
Another company, this one in Seattle, claimed to offer
"radioactive" good luck charms. The
company's ads promised the "charms" contained enough radioactive sand from
southern Idaho mines to activate a Geiger counter. You'd wear this "charm" on a bracelet or
necklace and it could provide medicinal or healing properties. RADIOACTIVE
CHARMS! Like someone thought that was
a good idea! BBB was informed the few
grains of sand were too small to cure or relieve or prevent anything. But the company was selling these as a
novelty or gadget, like a rabbit's foot or some other good luck charm.
Not only were there warnings of scams and false advertising,
but Mad Men-style works of commercial art used to promote Better Business
Bureau's Standard of Trust.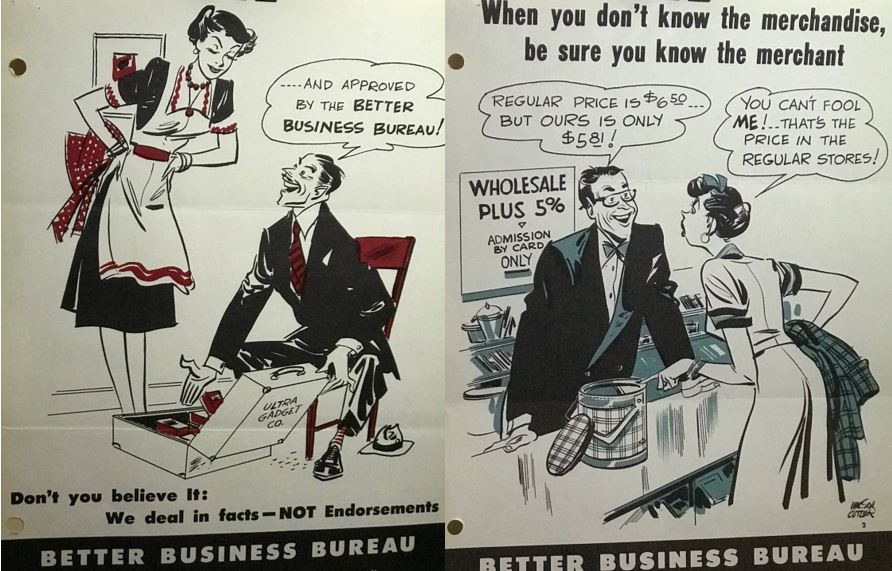 This is just a snapshot of the Better Business Bureau in
Spokane during the 1950s. The methods
used by scammers change over the years, but the message of Better Business
Bureau has stayed true; know the business you are dealing with and do your
research.