For much of the history of shopping, companies solely
existed as brick and mortar operations. Whether consumers were looking for a
favorite product or a helpful service, they had to physically get their foot in
a door. And if it was your product or service they were in search of, your hope
was it was your threshold they were crossing.
However, the Internet has changed – and continues to change
– all of this and all of us. E-commerce has steadily risen as more and more
businesses take advantage of the opportunities available in the digital world.
For companies that launched in the digital space without a
physical storefront, targeting customers is a little more straightforward, but
for companies that keep one foot planted in each world, the reality is a little
different.
Understanding how consumers shop online and offline can be
exceptionally informative in coaxing purchase decisions and guiding marketing
that resonates with its intended audience.
The Online World and
Its Popularity
Consumers aren't merely browsing online anymore. They're
making full-fledged decisions on what to buy, when, and how. The online shopper
has inched up to over 80
percent of today's market.
If a brand or business has a popular social media or website
presence, namely a blog or a branding campaign, consumers are using their
mobile devices to make purchases right then and there. It's become entirely
natural for online consumers to discover what product they prefer and then
visit the offline site directly to make their chosen purchase.
Here are a few reasons why shopping online has become such a
big attraction for consumers:
Side-by-side selections: They can compare prices
and toggle between one item or service to another with
the push of a button.
More, more, more: A consumer has a plethora of
choices online. A better variety and selection mean brands and services are
more apt to attract online behavior and retention when they
have an online presence.
Non-stop shopping: E-commerce carts never close.
When offline stores flip their door sign to "Sorry, we're closed," the online
world remains open and ready.
As easy as it
gets: There's no worry of bumper-to-bumper traffic, bad-weather mishaps and
other store-going barriers for online consumers.
Going solo: Sometimes, trading overcrowded
stores and long lines for couch surfing is more appealing.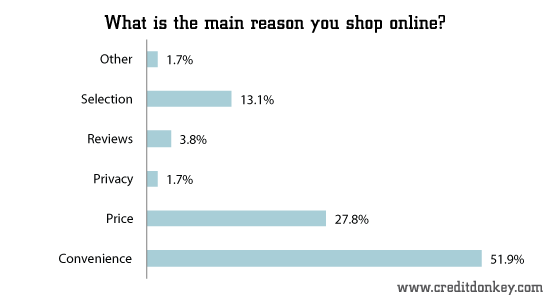 The Importance of Reviews
Another important factor that online shopping has brought to
the marketplace is online reviews.
Ninety-seven percent of consumers check online reviews before making
a purchase. Not only that, but consumers tend to spend 31
percent more when they recognize a five-star review or one with the
highest praises.
It is clear that positive reviews are priceless to big
brands and small businesses alike. Whether the foot traffic increases or their
online presence get a boost, an excellent review can make or break their
success. On the flip side, research shows that 22
percent of consumers won't visit a business if they've received a negative review.
But don't let negative feedback get you down; it can often be an opportunity to
improve and mend a relationship with a potential client. From our Torch Talk
blog entitled The
Ultimate Guide to Using Reviews to Boost Sales:
"To turn a poor customer experience
into a raving fan, invite them back to review the changes you've made for
themselves- on your dime. Whether it's a restaurant dish that has been
improved, a redeveloped product or service, or retraining your staff for a
better customer experience, taking the time to demonstrate to your clients that
you value their feedback can go miles toward landing customers for life."
Business credibility is key for consumers. Reviews are
unfettered opinions by people with firsthand experience that help ensure your
potential customers making purchasing decisions that fit their needs.
Therefore, reviews are essential for a business to boost their sales and online
presence.
What Consumers Are Looking for With Their Shopping Decisions
There are a wide variety of consumer stereotypes for both
online and offline shopping. Each business who engages in the marketplace with
their clever advertising is making a case for their way of shopping. Either
they believe the online experience is more beneficial and saves time, or
remaining offline and visiting stores is more suited to their needs.
Let's take a look at those who
prefer to shop online for their goods and services:
The Instant Buyer -- Often, prices don't even matter to consumers who purchase something without doing any research. They enjoy the shininess of the product or the instant satisfaction of the services offered.
The Bargained Shopper -- These customers scour the Internet for every sale or bargain they can afford. They'll plug in a specific word for the service or product in question and take their time when making a decision. Mobile shopping, or buying through apps, is a favorite of the bargained shopper as they can keep a close eye on sales. In 2018, 40 percent of Black Friday transactions that would have traditionally happened offline were done on a mobile device.
The Negotiator -- This consumer wants to get the most bang for their buck. Typically, these online consumers will contact the point person and send communication via email or phone call to whittle the price down to what they feel it's worth.
The Patient One -- Similar to the bargained shopper, they take their time. This might be the most popular consumer, as they don't want to be persuaded into any service or purchase that might not benefit them down the road.
The Tried and True -- The tried and true consumers have been around the block a few times to know the ins and outs of ordering what they need from their online sources. They look for high-quality labels, are in search of helping out the local business community, and listen to referrals within their network. Every purchase by this consumer is solid and long-lasting.
On the other hand, let's look at examples of the offline shopper:
Impatient and Instant -- Free two-day shipping
is great, but some consumers just want the product now. Pushing a "complete order" button will never
be as satisfying as entering a store empty-handed and leaving with this
impatient consumer's new item. This
preference is a big benefit to those businesses that have an offline presence.
The Tactile Type -- Within every person, there's
an innate desire to hold and interact with the thing you desire. The tactile
consumer chooses to touch, smell, listen, observe, and wallow in all the senses
that a service or product can offer. While preferring to shop offline, these
customers may have researched a product online extensively before making a
purchase in person.
The Adventurous Shopper -- It doesn't matter how
far this consumer needs to travel to buy their product or hire their service;
they're into the adventure of getting there. Road trips have a purpose to the
adventurous consumer. The hunt is just as enjoyable as the end product.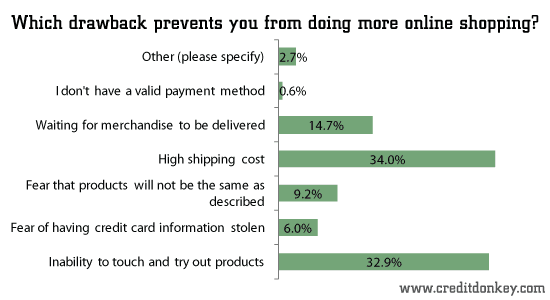 Combining Online and Offline Services
While customers will never abandon brick and mortar stores
due to the convenience and utility, embracing technology is now a large part of
creating a recipe for success. Brands are forced to think outside the box,
creating a modern take on traditional business models. Some let customers order online and pick up
at the store. Others may offer a customized tool to help clients envision their
homes with the upgrades they desire. Companies can use the digital space to
improve their customer experience without much overhead.
Other trends are taking over retail, too. Options like
cashier-less checkouts, pop-up stores in convenient locations, and
merchandising driven by data are all being incorporated into traditional
shopping models to help brick and mortar stores gain a leg up. Staying
competitive in business means getting into the game before it's too late and incorporating
the kinds of trends to which customers have become accustomed online:
The emphasis of fast and convenient service,
providing an experience that two-day shipping can't match
A helpful and friendly experience; shopping
online is impersonal, so a smiling face, a helping hand and offering good, real-time
advice with a personal conversation can enhance a shopping experience
Be unique; offer items customers can't easily
find anywhere else, or can't find at a good price, to provide an incentive to
shop at your store
Be flexible by providing multiple ways to pay,
numerous pickup or reservation options, or any other detail that can supersede
the advantages of e-commerce
Stay competitive with good prices, enticing
sales, and advantages unavailable with your competition
Online options to stay competitive with
e-commerce marketplaces
The Essence of the
Business Meets the Needs of Consumers
For a business to succeed in the marketplace, they must
distinguish between which consumers they choose to appeal to and why.
Both online and offline shoppers have their merits to
increase sales of a product or service. Both can be active at the same time and
for the same reason.
Integration
is the key. For every online shopper, an offline shopper is waiting to
scoop up the leftovers. In most cases,
the offline shopper doesn't go back and forth in store. They might have
researched what they want online and are ready to make their selection offline.
Online customers typically conduct more research and require
detailed descriptions and pictures. These online consumers may not always
succumb to the trust factor as an offline shopper does, yet incentives and
motivation drive them.
For the offline shopper, fulfillment is immediate. Having
the choice to see, touch, try on, and sidestep complications in a return
process is what motivates their decision.
Final Thoughts
The final resolve for consumers and businesses is one of
empowerment. All shopping results are based on how a consumer feels, whether
it's an intuitive feeling or how they feel about their research. Once you
identify how you want to run your business both online and off, you can make sure
that you are meeting the needs of your customer.