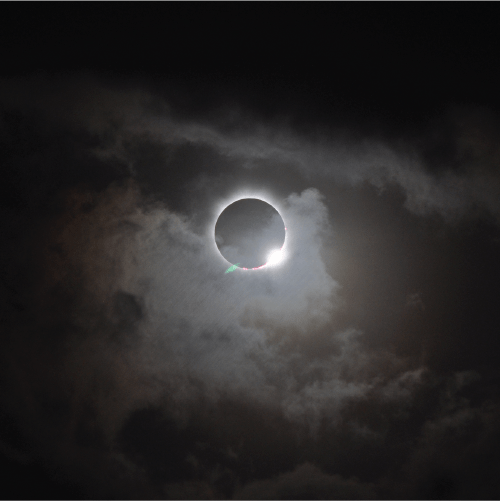 On Monday, Aug. 21, North America will have its daytime sky briefly interrupted by a solar eclipse. The eclipse will have a path of totality that starts in Lincoln City, Oregon and ends in Charleston, South Carolina.
Along this path is the City of Idaho Falls, a preferred viewing site as designated by NASA. Idaho Falls is a city of about 60,000 residents, situated along the Snake River. While it hosts events throughout the summer that is largely attended, sometimes bringing in over 100,000 visitors, the total solar eclipse is a unique event that will attract visitors from all over the world. Some estimates say around 300,000 and others say perhaps as many as 500,000 in and around the area.
Such a large influx of people over a short amount of time could, undoubtedly, be problematic for the area. But it's also a great opportunity for businesses to showcase their products, services, and hospitality to those who may have never heard of Idaho Falls had it not been for the eclipse.
Chip Schwarze, CEO of the Greater Idaho Falls Chamber of Commerce, and his team have been busy preparing the business community for the big event. An Accredited Business since 1988, the Greater Idaho Falls Chamber of Commerce is heavily involved with the business community and provides frequent educational and networking opportunities for both member and non-member businesses to attend.
When it comes to reaching out to businesses, Schwarze said many of them have not yet realized the impact so many visitors will have on the city. Hotels in the area have been aware of the magnitude of the event for a couple of years now, but it's because of the number of reservations in advance that this industry is better prepared. The Chamber is reaching out to businesses like restaurants, retail, gas stations, and other service businesses to help them plan for this surge in tourism. For businesses that don't fall into these categories Schwarze suggests they consider staying home.
"They should close their doors if they can," he said. "Don't be out that day if you don't have to be."
But if that's not an option, the Chamber is helping businesses with information on how to be well-prepared, precautions they can take to keep operations running smoothly, and how to plan around the potential hurdles that come with very large groups of people. They've also made plans to have a consortium of area businesses and city officials to help answer questions and address concerns.
"Think of the impact on public safety, the sanitation department, the traffic on our roads – these resources are limited," he said.
And it's not just businesses that need to start planning.
Schwarze stated that, while they are not trying to cause alarm, they do want residents to prepare for limited local resources the day of and for a day or two after.
"Fill your pantries. Fill your gas tanks the Monday before," Schwarze said. "They can refill the tanks before people start to come and that'll save it for our guests."
Despite these warning, it's not all serious. The Chamber has created an event website with information, lists of activities and accommodations, and specially branded merchandise to help commemorate this unique occurrence. Additionally, they're selling special viewing glasses that will allow the wearer to watch the full eclipse while protecting their eyes. These glasses will also be distributed to area schools, along with safety tips, for students to bring home. While the Chamber is not currently hosting a specific event, they are helping to promote other events, including an interactive NASA exhibit and film festival Aug. 18-21 at the Museum of Idaho. Concerts, rodeos, markets and other activities will fill the metro area all weekend, including the annual Idaho Falls Duck Race, giving both visitors and locals and experience to remember.
Idaho Falls Parks & Recreation Director, Greg Weitzel, said that there will be viewing areas and overnight parking spots designated throughout the city and that anyone looking to use area parks to host an eclipse event of their own can contact his department for availability. Like Schwarze, Weitzel says preparation for the eclipse is key.
"Be prepared. Get educated. Stay informed. Stay connected and engaged. Have patience," Weitzel said. "While the event will be challenging, the eclipse is also an opportunity to really showcase our communities. It is a chance to show guests how truly wonderful our region is, to show them a warm welcoming."
The Chamber agrees that this is a great opportunity to show what a great area Idaho Falls is and they hope, despite the inevitable crowds and traffic, people will remember their trip to East Idaho fondly.
"You think of all the trouble people are going through for two minutes and 11 seconds," Schwarze said. "But it is such an incredible experience."
Information about the eclipse, local activities, accommodations, and Eastern Idaho Eclipse merchandise can be found at eieclipse.com. Viewing glasses can be purchased at the Idaho Falls Visitor's Center at 425 N Capital in Idaho Falls. For more information about the Greater Idaho Falls Chamber of Commerce and the Idaho Falls Visitor's Center, visit idahofallschamber.com. To learn about the science behind solar eclipses and view the path of totality, visit eclipse2017.nasa.gov/.