Every
industry is being impacted by the COVID-19 pandemic, but there is perhaps no
other segment, other than medical, where
advertising honestly is more important than the cleaning industry.
Cleaning
and disinfecting companies have to communicate with consumers in a way they
probably didn't have to before – being as detailed as possible regarding their
methods and being as honest as possible about their products. As an increasing
number of consumers look to deep clean their homes to mitigate the risk of becoming
infected, it is paramount that cleaning companies are transparent.
At
Better Business Bureau Northwest + Pacific we understand the need to advertise
honestly. It's woven into our DNA. It's one of our Eight
Standards of Trust.
It is a tenant that we ensure all accredited businesses uphold. Why? So,
consumers know who to believe when it matters most.
Amid
COVID-19, if cleaning and disinfecting companies advertise tactics or methods
that are not proven to work, this could be dangerous. Giving customers a false
sense of protection allows for lax behavior, which could result in more
coronavirus infections.
Within
the BBB Northwest territory, we investigated a Boise-based carpet cleaning company
advertising "ozone fumigation" as a way to kill the coronavirus. And while
fumigation can help rid your air of particles, allergens and bacteria, it is
not a proven way to kill the COVID-19 virus.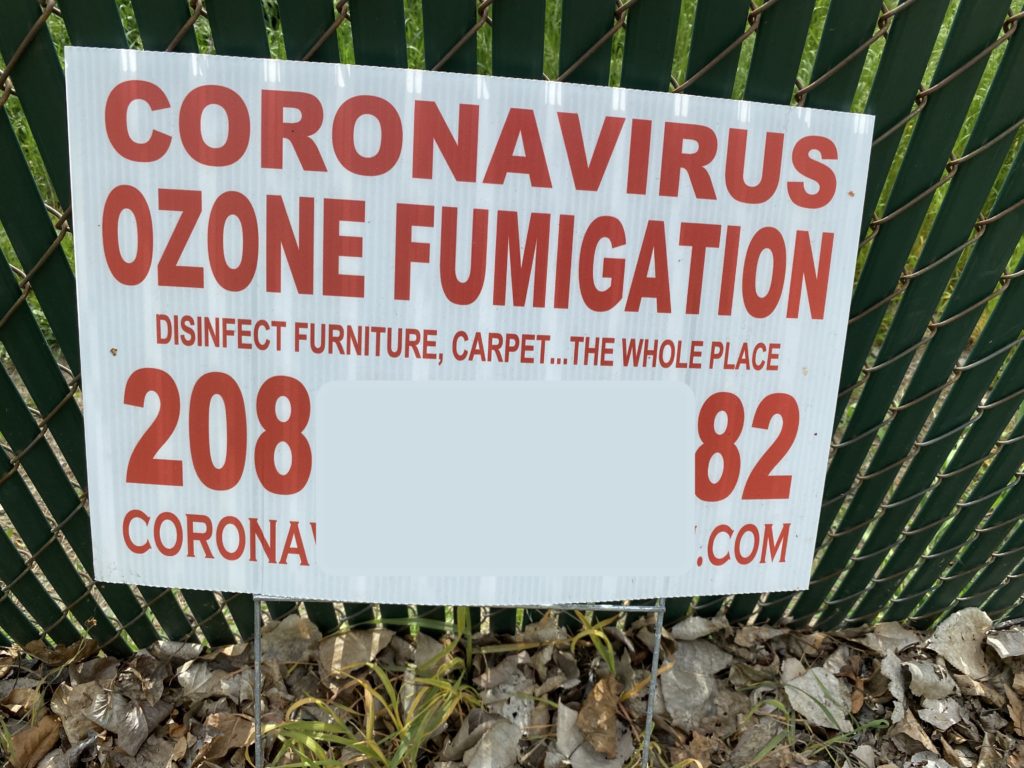 However,
consumers wouldn't know that just by reading this company's advertisement. And
therein lies the problem.
"No,
you can't just whip out a fogging machine and expect that to work alone," said
John Stavros, president of Camas-based Bio Management Northwest. "The main idea
is you need more than one method. We use a three-point system: hit every touch
point or surface two times and also fumigate the air."
When
it comes to advertising what will and what won't kill this novel coronavirus,
no guarantees can or should be made. The Center for Disease Control has recommendations based on
what has been proven to kill other viruses – such as SARS or MERS – but this
does not mean those methods will kill COVID-19. If the CDC can't guarantee it,
neither should any cleaning or disinfecting company.
"Even
the big players, like Lysol for instance, only claim their products kill 99.9%
of germs," Stavros said. "No one can claim their method or product kills 100%
of viruses all the time. And, for this virus especially, any one-step approach
is not likely to work. You need multiple hits to sanitize."
At Bio
Management Northwest, they are seeing positive results with their three-hit
method. Not only are they disinfecting all touch points twice in combination
with fumigation, but Stavros notes they do not use the same chemicals two times
in a row. When the same chemicals are used over and over to combat a virus,
this gives the virus an opportunity to mutate and grow stronger – rendering
that product or method useless.
So,
while he can't claim it works 100 percent, Stavros is confident that his method
does mitigate risks. "We've tested four job sites with industrial hygienists
where we swab a surface before and after remediation, using our methods, and
the tests are coming back negative for the virus after we're done."
While
this is good news, Stavros still has to be careful about how he markets his
services. Just as the cleaning company in Boise should, too.
BBB
NW+P does not suggest any company, no matter what they think works, advertise
that their method "will kill" COVID-19. For cleaning and disinfecting
companies, yes, you should be honest about the results you're seeing and
explain the facts behind it but, again, make no guarantees. Claiming your
method is proven to work, while even the CDC still does not have explicit
instructions on what is proven to work, could result in false advertising
lawsuits.
Above all else, consumers must do their homework when searching for a cleaning company to come into their home. To do that, consumers should always start with trust at bbb.org.