I am terrified of needles.
Everything about needles. Everything about getting poked by a needle. Whether
it's drawing blood, getting a vaccination shot or anything else involved with
needles. And yes, I know people say if you have tattoos you should not be
fearful of needles. In my mind (which is really my only frame of reference,) this
is totally different. Getting poked with a needle always seems to be the worst.
I'd been deliberating over where I would volunteer for a Passion Project
(something BBB encourages us all to do). Then I decided, I would make the
commitment to give blood as frequently as I could, starting Friday March 8,
2019.
My mental process to get to 'the needle decision' started in February. I was at an event in Coeur d'Alene where BBB accredited business Precision Tax Relief LLC was handing out flyers. They advertised a mobile blood bank day in March. It sparked an idea. I had already considered a different organization to participate in my passion project that focused on animals. I love animals and really would want to help any organization that houses, helps and allows volunteers to be a part of the organization. But as I stared at the flyer on my desk it gave me the idea; I should do something that scares and challenges me, giving blood was the answer.
The day arrived. As I
drove to the mobile donation location in Coeur d'Alene so many questions were
running through my head. Would it in the
office of this accredited business? How
big would the needle be? Would they judge me if I started to cry? If I fainted? Does my heart need to be beating this
fast? These questions and about a
thousand more were running through my mind.
Pushing down these fears, I pulled up to the business and parked the
Better Business Bureau Northwest and Pacific vehicle.
First question answered – the blood donation would be in a
trailer. This was my first experience ever giving blood and I had to fill out a
questionnaire. The staff was
amazing. Once my blood type was
verified, thanks Mom, I got into the seat and started. My blood drawing specialist, Heather, told me
what was going to go on and we started.
She told me when she was about to needle me that if I don't like
needles, look away and it will over soon.
I looked away! That's when it happened, the fear and anxiety of needles!
But, I am happy to report, there was no fainting, no crying, and without
incident I was filling up my pint bag of blood – it only took ten minutes.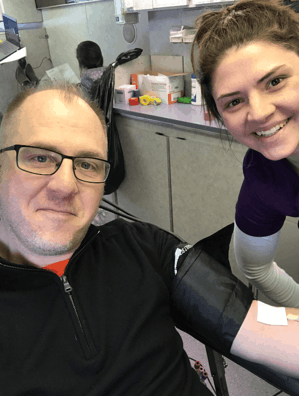 When the bag was full and "the needle" removed, I was
required to stay for at least 15 minutes to replenish the fluids that I had
lost. To be honest, it really wasn't
that bad. I had conquered my fear of
needles, even if only for a short period of time. What had I done? I had helped to save three lives. I will never know who I help, their names or
even what their situation is but I can know that I have made an impact in the
world.
Its eight weeks until I can give blood again, and with O-positive
blood I can guarantee that I will get a reminder as soon as I am able to help
again. I have learned a few things about
myself and others. The blood that I give
will help others and will make an impact on someone's life. I can conquer my fears if I am diligent and,
while needles still give me nightmares, if I keep this passion project up
throughout the year it will make it easier every time.
A big thank you to Precision Tax Relief LLC for allowing me the opportunity to donate and for upholding our standards of trust for 8 years and to Vitalant Blood Bank for the incredible experience.
Eight weeks isn't too far away and if you want to give blood
and help save lives, find a blood donation location close to you.