Battling
Childhood Hunger, One Kid Pack at a Time
It's been eight months since I quit my job as the Communications
Director of the food bank in Helena, Mont. to move back to my hometown of
Bozeman. I loved that job. Everyday, I woke up with a sense of purpose. And
every day, I felt that I was part of a team doing things that mattered.
A lateral position didn't exist at the Bozeman
food bank, so that wasn't a career option anymore. I promised myself that the
next job I got would also give me a sense of purpose, a desire to get out of
bed every morning and make a difference. It took me a few months, but - spoiler
alert – I landed at the Better Business Bureau. The BBB vision is to create an
ethical and honest marketplace where buyers and sellers trust each other. BBB
also acts as a market watchdog, helping protect consumers from scams that rob
them financially and emotionally. Both those components of the job resonated
with me. But what helped seal the deal on taking a job with the BBB was the
non-profit organization's commitment to letting employees give back in their
own communities.
The team I am part of - the Marketplace Team –
calls giving back our "Passion Project." We are given time during the workday
once a month to get out in the community and get our hands dirty helping. I
jumped at the idea. I connected with our local young Rotarian group and joined
them for a night of filling Kid Packs.
What's a Kid Pack? So glad you asked. A Kid Pack
is a weekend supply of food for children facing hunger on the weekend. The
foods that go into a pack are kid-friendly, so children can open and eat right
away or prepare easily, if a guardian is not always available when a child is
hungry.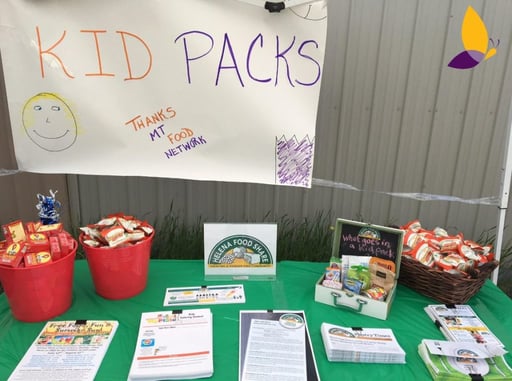 The Kid Pack Program is one I am well acquainted with from my time working at the food bank in Helena. I even fundraised to grow the program as the need grew in the community. This program was important to me professionally and personally. As the mother of a 7-year-old daughter in one of the less affluent schools in Bozeman, I am keenly aware that children in my daughter's class receive Kid Packs. I know these kiddo's parents as hardworking professionals or students that are doing their best to get by.
I remember hearing from parents of Kid Pack kids
in Helena, too. They would tell me how grateful they were for the supplemental
weekend food because they couldn't always provide three meals a day for their
family. These are parents that would often skip meals themselves to ensure
their children had a little more to eat.
All their stories stuck with me, but one stands
out. It was a day I spent welcoming new customers to our pantry. We would sit
in a discreet corner of the food bank with each new customer and ask some
demographic information. It was a chilly Montana winter day and I was seated
across from a gentleman who looked roughly the same age as me. When I got to
the questions about his family, he told me about his son, who is the same age
as my daughter, with the exact same birthday. The man was ashamed to ask for
help and told me the only reason he had come to the food bank is because he is
living in a camper (in the dead of winter), he spent nearly all of his paycheck
on his wife's medical bills, and didn't have enough left over at the end of the
month to buy groceries.
As a recovering cops and court newspaper reporter,
I like to think my heart is a bit hard and I don't tear up easily. But in that
moment, sitting across from a man with a child my daughter's age, I got choked
up. Here he was asking for help, a tough thing to do, so his son wouldn't go
hungry again. Here was a man who had to choose between paying his wife's
medical bills and feeding his child.
It took me a few seconds, but when I regained
composure, I told the man about the Kid Pack program he could use to provide
extra food for his child. I got him set up on the program and his son starting
receiving a Kid Pack that week.
I think about that man and his son often. I wonder
if they're still struggling to keep their camper warm this frigid winter. I
wonder if there's enough money to buy medicine and food. And I wonder if I'm doing enough to help.
I can't answer most of those questions. But I can do my best to help. I can make Kid Packs. I can donate. I can spread awareness about childhood hunger. I can be part of a Passion Project much bigger than myself.
When looking for a place to contribute financially, volunteer your time, or to see if your charity qualifies for BBB accreditation, check Give.org.