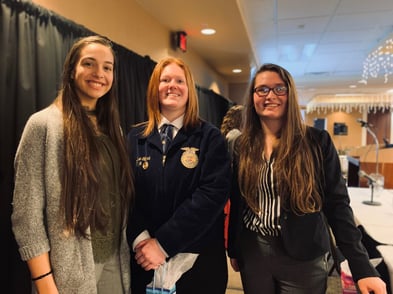 This month business leaders from around southwest
Montana converged in Helena for the 20th annual Business Days at the
Capitol hosted by the Montana Chamber of Commerce.
It started two decades ago as a way to offer
business owners access to politicians during legislative years. Since then the
tradition has morphed into a yearly event featuring speeches, panel
discussions, and information sessions. This year program offerings ranged from
a debate between candidates for State Attorney General to students from Simms
and Twin Bridges talking about preparation for life after high school through clubs
like Future Farmers of America and Business Professionals of America.
In a separate discussion, Matt Olson, Network
Development Director for the Montana Chamber, unveiled the results of the 2019
workforce development survey.
The big takeaway? The number one impediment to expanding employment in Montana
is the lack of available skilled workers. In fact, 64% of survey respondents
said they are having difficulty filling both entry and mid-level positions
while 85% of businesses reported attempting to grow their Montana workforce in
2019. Of those enthusiastic about growing their workforce, 36% of businesses
have turned down business opportunities due to workforce challenges. The low
number of applicants for each position coupled with the labor force's lack of
interpersonal skills and below market compensations in Montana compound the
problem. One survey taker said, "Montana salaries are not competitive with
other states." If salaries do not keep up, Montana Chamber CEO Todd O'Hair said,
talented workers will choose to live elsewhere.
Olson reported 786 people filled out the survey. Survey
respondents included business managers and owners. Montana business leaders
said they want school districts to put equal emphasis on all career pathways,
not just college. Sixty-nine percent of survey takers believe Montana high
schools are not doing enough to prepare students for the workforce.
Olson and O'Hair promised to put muscle behind
helping Montana business owners overcome the challenges listed in the survey.
Better Business Bureau Northwest and Pacific is
working hard to create resources for businesses to hire better, retain quality
employees, create healthy work environments and help businesses grow ethically
and honestly. Like the workforce survey illustrates, Montana's business owners
face unique challenges, but we know that working together, we can continue to
drive business forward today, tomorrow and far beyond.