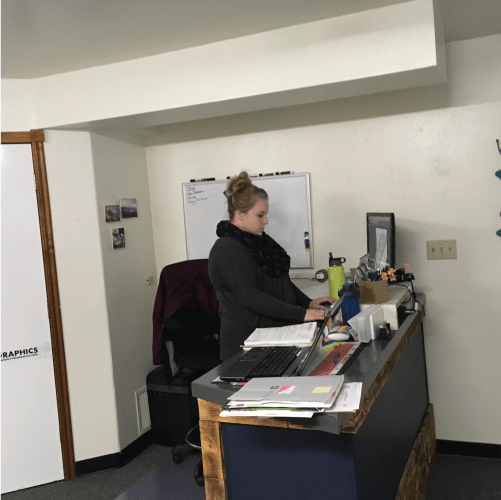 With tax season among us, your Better Business Bureau decided to sit down with HD Tax Preparation & Small Business Services owner Justine Desjarlais. She spoke about what brought her to the industry and how not being a franchise tax company actually benefits her business and customers.
Keep reading to learn more:
1. Tell us a little bit about your background. I see you went to the University of Montana?
I went to the University of Montana while working for a bank in town. One day, my aunt who is a CPA called and said she could really use some help around the office and so I went to work for her part time. I started with audit analytics and audit work and eventually that part time job morphed into seven years with her firm. Once I realized that it was something I really enjoyed, I went back to the University of Montana while working for my aunt and got the formal education and I've been an accountant ever since. While all this was going on, my husband and I had a few other small businesses we were running on the side. Small businesses have always been a part of our lives.
2. How did your company get started?
With my accounting degree, I was able to take on accounting or financial type jobs for larger organizations in town. However, I was soon approached by another family member, Toby Hansen of Toby Hansen Insurance, who had a partnership idea. There is a really great symbiotic relationship between his insurance agency and our accounting firm. It helps because a lot of referrals go back and forth, and services can be more or less in-house for his clients. So, we started HD, and it has been amazing! I mean, we were nervous when we first started because things were a little slow, but then the tax season was crazy. I thought my first year I might do 50-60 returns, but I prepared more like 140 returns. And it pretty much took off from there. As a result, I picked up a bunch of bookkeeping clients.
3. What services do you focus on?
Primarily we focus on taking care of small businesses from beginning to end. We are full service which includes payroll, all accounting services, all the way through tax prep. Our day-to-day clients are small businesses. We do their books, payroll, and advise. We talk them through what they need to do to be compliant with work comp and all those various other things small businesses need help with.
4. Why did you choose to align yourself with BBB?
As a consumer, Better Business Bureau was one of the first places I always went to look up a business. Before I work with someone new, I look them up. I want to see their grade and whether or not they are Accredited. That Accreditation is a great way to prove that I'm trustworthy and on the up and up. With some of the news headlines in the past 25 years, some accountants have gotten a bad rap. I think it is important to show that we have transparency and being a part of the BBB promotes that.
5. You offer services for business startups, how is your business able to benefit these new companies?
The first thing I always tell someone who comes in and they say, "Things are such a mess, I don't know what I'm doing." They are stress and embarassed. I tell them that they know their industry. Whether that be construction or any other type of business. I tell them that, just like they know their business, I know accounting –you have your level of expertise and I have mine. Let me help you so that you can focus on what you are good at and I can help your business be financially successful.
Also, new business owners have a lot of questions about how their business needs to be set up. Will they be a sole proprietor, an LLC, or do they need to incorporate? Setting those things up at the beginning is really important—even if it is going to change over time, you want the foundation to be set so you know from the beginning what your compliance requirements are and how you need to keep your books. It sets people up for success from the beginning to work with someone who knows the differences.
6. What makes your business different from other tax preparers?
I learned how to do this job while doing it. I worked in a CPA office for several years and there is a very specific way of doing this. I've been able to incorporate those solid fundamental tools into what I do. In addition, when accounting is a business that runs in the family, you always have a mentor you can call on to troubleshoot the occasional challenge.
Your typical tax preparer in a franchise or inside big box store doesn't get that kind of training. They might take a lot of shortcuts and things get missed. Being thorough has benefitted our business because we've enjoyed a 90 percent retention rate and a high number of referrals all through word of mouth from very satisfied clients.
Also, I was born and raised in Missoula. We have clients who enjoy financial stability and those who struggle to make ends meet every day. We get people from all walks of life and we really enjoy that.
7. What are some things to consider when choosing a tax preparer?
Don't fall for the gimmicks. That's how you get into trouble. Watch out for rapid refund loans (RAL). I think those do people a disservice. They are really expensive and if you can afford to stay away, stay away!
Also, the IRS publishes a list of registered preparers but pretty much anyone with a PTIN can get on that list. Make sure the person or firm you choose to work with is keeping up with the annual changes in tax laws. I carry an extra designation that shows I pursued continuing education on current tax law. There are changes every year and this year will be insane with all the changes we will be seeing in 2018. I think it is important to have and for customers to know.
8. What is your favorite thing about your job?
Definitely my clients. I meet so many people from diverse backgrounds and I really appreciate that. I mean, it's Missoula and there are so many different personalities here and I love that.
9. If you could give a new business owner one free piece of advice, what would it be?
Call us. We will do a free 30 min consultation – and there are others that will do it too. So, call someone and get questions answered on the basic things you need to get done to get started. We can take you through the simple steps you need to get things off the ground. What forms to start filling out, when and where to file them, etc.
Don't let the minutia of this kind of work become an albatross around your neck. That's why there are people like us out there. If you are a small business owner, life can be so much better working with someone.
10. What kinds of things do you like to do with your free time?
I hike a lot when the weather is good. I ski occasionally. I like to read, hang out with my dogs, and most of all, with my family.
11. Tell me about your family.
My husband, Shane, has owned a small trucking business for the last 22 years. Jesica is my daughter and she is in the accounting program at the University and works here part time. She does book keeping and keeps me on track and organized. And my other daughter, Hannah, who is going to the nail tech program in Hamilton. She is a little more artsy and a free spirit! They all keep me on my toes.
To learn more about HD Tax Preparation & Small Business Services visit hdprep.com.