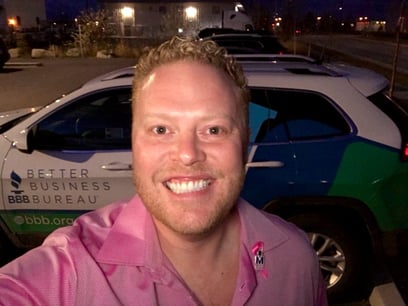 Where does your mind go when you see pink, read the word
pink, or think pink? You think of a girl, right?! Not so fast my friend. Pink
is not the universal color for young girls or women anymore, at least not in
October. There are a million and one things to celebrate or bring awareness to
on any given day or month, but everyone knows that October is "Breast Cancer
Awareness Month". Each of us likely knows someone who has been infected by
cancer's sickening cells, especially breast cancer. Every fall the annual
campaign to fight breast cancer revs up and you see fundraisers, walks,
marathons, auctions and galas galore. But did you know there is another
campaign that's put into action called "Real Men Wear Pink"?
I was one of those "Real Men" a few years ago right here in
Anchorage. I had the honor of being part of the inaugural team that started it
back in 2016. Last week was the wrap party for the Anchorage guys and being one
of the "Alumni" I was invited to the party. It brings a warm feeling to your
stomach when you show up to support other men, supporting women in your
community. For some of these guys it is a real stretch for them to put on
something pink, go out and ask their community to support them in supporting
others, or to even get over the stigma of being a man and bringing awareness
and light to a cause that normally does not affect them, but still can.
The American Cancer Society (ACS) says breast cancer is
the most common cancer in American women, except for skin cancers. Currently,
the average risk of a woman in the United States developing breast cancer
sometime in her life is about 13%. This means there is a 1 in 8 chance she will
develop breast cancer. This also means there is a 7 in 8 chance she will never
have the disease. The ACS estimates for breast cancer in the United States
for 2019 are:
About
268,600 new cases of invasive breast cancer will be diagnosed in
women.
About
62,930 new cases of carcinoma in situ (CIS) will be diagnosed (CIS
is non-invasive and is the earliest form of breast cancer).
Currently there are more than 3.5 million breast cancer
survivors in the United States. This includes women still being treated
and those who have completed treatment.
As we've closed out October and are moving into the throes
of the holiday season, remember that just because the "pink month" is over
doesn't mean the fight stops. There are always more walks, fundraisers,
marathons and galas galore for you to support other people who might be in
need. But the next time you see a man wearing pink I hope you think "Real Men
Wear Pink".