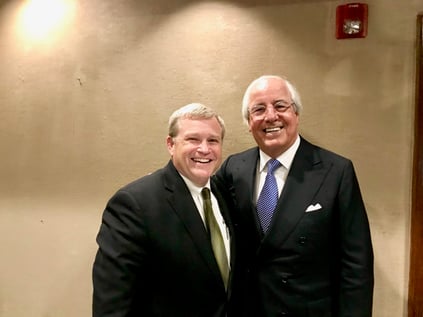 Scam Jam. It
sounds like something you put on toast. Or maybe a mix tape of fun songs. But
in fact, some may argue, it's more exciting than that. The Idaho Scam Jam Alliance
(ISJA) is a group of organizations with one mission in mind: warn Idahoans
about scams and arm them with information on how to avoid them.
Members
include Idaho Attorney General's Office, Department of Finance, AARP, Area Agency
on Aging and of course, Better Business Bureau (BBB). Patricia Highley,
Co-Chair of the Alliance and Education Coordinator at the Idaho Department of
Finance explains, "Alliances like the ISJA, which is comprised of non-profit
and government agencies, provide invaluable, unbiased information and support
to Idaho's communities."
"We empower
people to identify scams and fraud, to take a step back and evaluate when
something is, "too good to be true," and to take action to protect themselves
and their loved ones from these cons without conscience." -Cathy McDougall,
Director of Outreach AARP Idaho
The Alliance
does this by hosting free "Scam Jam" events throughout Idaho every year. Recently
we hosted a Scam Jam in Meridian, ID, bringing in hundreds of seniors from
across the Treasure Valley, eager to arm themselves against scammers. The
seminar offers a days-worth of presentations on a variety of topics, focusing
on different scams targeting our community. Keynoting the event was Idaho's
Attorney General, Lawrence Wasdon, who said scams are plaguing Idahoans,
specifically, robocalls. His best advice? Hang up. Or better yet? Don't event
answer.
But the
Idaho Scam Jam Alliance brought something, or someone, extra special to the
Treasure Valley in 2019. On July 24th, AARP hosted a free event
featuring Frank Abagnale. Who is Frank Abagnale? He is the con-man turned
fraud-fighter who inspired the movie "Catch Me If You Can".
Frank lived
a life of fraud, under multiple fake identities, including pretending to be an
airline pilot, forging checks and swindling money. He was eventually caught and
arrested and ordered to work with the FBI. He continued his work with the FBI
for over 40 years as an advisor on fraud schemes. And here he was, in Boise,
Idaho, speaking to a room full of seniors, empowering them with ways to protect
themselves from scams and identity theft. He is a fascinating speaker with
exceptional credibility. Here are my notes from this special event:
Frank knew his con-life wouldn't be long-lived: "I always
knew I would get caught. Only a fool would think he wouldn't." And he lets his
remorse be known, "I always looked back on what I did was unethical. It's a
burden I live with every day of my life."
Frank turned down three pardons by three sitting presidents
because "I don't believe a piece of paper will forgive what I did more than my
actions."
People who hack mass data (like data breaches) warehouse that
information for years. The longer they hold it, the more its worth. People can't
change their SSN or DOB. But if your credit or debit card information gets
stolen at a local retail store, that info gets unloaded right away because card
numbers can change.
Data is money and that's why people want to steal it.
His prediction: passwords will be a thing of the past. They
are too easy to break, and everyone uses the same password for everything. The
example he gave was the Chase Bank commercial with Serena Williams running
through town, she sees a necklace she wants to buy but doesn't have her wallet
on her. She accesses the Chase Mobile app and through the app she is able to
get money from a nearby ATM. No passwords.
Whenever we ask identity thieves where they get their
information, they almost always say social media. Know what information you're
sharing.
Two things never to put out on social media: date of birth
and place of birth. With those two pieces of information, con artists have the first
kernel of knowing everything.
Con artists love to buy old printers. They buy them used, wholesale.
That's because since 2002, all printers have a hard drive. That hard drive has
LOTS of information. Clear those hard drives in printer and fax machines before
getting rid of them.
When buying an at-home shredder, it's important to know what
type of shredder to get. It doesn't matter the brand. What's important is that
it's a "security micro cut shredder".
Lastly, one
of the most important things he told that audience was, "Everyone can be scammed.
The most intelligent people get scammed. The best thing you can do is tell
someone about it." There's an embarrassment that goes along with being a victim
of a scam. But sharing your story helps spread the word and warn others.