When tragedy
strikes – people reach out to help.
That's as true in Montana as anywhere. Earlier this month, tragedy
struck Montana Highway Patrol Trooper Wade Palmer. Trooper Palmer was shot multiple times while
pursuing a suspect. He was airlifted to a Utah hospital and remains in critical
condition. Since the incident, there has been an outpouring of support for
Palmer's family and local law enforcement communities.
Unfortunately,
scammers are taking advantage of this tragedy and trying to make money on it. The Better
Business Bureau joins the Montana Highway Patrol in warning donors to beware of
scams targeting people who want to help.
The MHP released a statement late last week, "Unfortunately, tragedies such as these often bring some not so
nice folks and opportunists out of the woodwork. This week we have had to shut
down one fraudulent GoFund Me account and today we heard that Missoula
County Sheriff's Office received a report of someone calling people and
pretending to collect funds in support of the Palmer Family. The last thing we
want is someone using Trooper Palmer or his family to make a quick buck."
Other law enforcement agencies
are also working hard to warn about the fraudulent donation requests. The
Flathead County Sheriff's Office said it is, "completely
disgusted, but shouldn't be surprised, that someone would take advantage of
this situation. If you have questions as to the validity of a donation request,
please call (406)329-1500 (Missoula Highway Patrol)."
As Trooper Palmer remains hospitalized, several legitimate
fundraising efforts have been started to help the family cope with medical
costs. For a full list of MHP vetted fundraisers, visit their Facebook page:
facebook.com/montanahighwaypatrol. The Montana Highway Patrol says it will keep
the list of fundraisers updated as Trooper Palmer's family is able to vet them.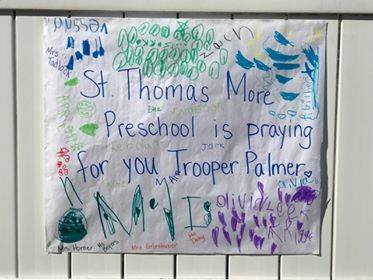 When giving to Trooper Palmer or another cause you care about,
the Better Business Bureau Northwest + Pacific offers the following tips to
ensure your donation is used where you intended:
1. Thoughtful Giving: Take the time to check out
the charity to avoid wasting your generosity by donating to a questionable or
poorly managed effort. The first request for a donation may not be the best
choice. Be proactive and find trusted charities that are providing assistance.
Visit Give.org to verify if a charity meets the BBB Standards for Charitable
Accountability.
2. Crowdfunding: Keep in mind that some
crowdfunding sites do very little vetting of individuals who decide to post for
assistance after a tragedy or a disaster, and it is often difficult for donors
to verify the trustworthiness of crowdfunding requests for support. For more
Give.org tips on crowdfunding, check out this Wise Giving Wednesday post.
3. Respect for Victims and Their Families: Organizations
raising funds should get permission from the families to use either the names
of the victims and/or any photographs of them. Some charities raising funds for
the victims of previous shootings did not do this and were the subject of
criticism from victims' families.
4. Government Registration: About 40 of the 50 states
in the U.S. require charities to register with a state government agency
(usually a division of the State Attorney General's office) before they solicit
for charitable gifts. If the charity is not registered, that may be a
significant red flag.
5. How Will Donations Will Be Used?: Watch out
for vague appeals that don't identify the intended use of funds. For example,
how will the donations help victims' families? Also, unless told otherwise,
donors will assume that funds collected quickly in the wake of a tragedy will
be spent just as quickly. See if the appeal identifies when the collected funds
will be used
6. Advocacy Organizations: Tragedies that involve
violent acts with firearms can also generate requests from a variety of
advocacy organizations that address gun use. Donors can support these efforts
as well, but note that some of these advocacy groups are not tax exempt as
charities. Also, watch out for newly-created advocacy groups that will be
difficult to check out.
7. Online Caution: Never click on links to
charities on unfamiliar websites or in text messages or email. These may take
you to a look-alike website where you will be asked to provide personal
financial information or may download harmful malware onto your computer. Don't
assume that charity recommendations on social media have already been vetted.
8. Financial Transparency: After funds are raised for
a tragedy, it is even more important for organizations to provide an accounting
of how funds were spent. Transparent organizations will post this information
on their websites so that anyone can find out without having to wait until the
audited financial statements are available sometime in the future.
9. Newly-Created v. Established Organizations: This is a
personal giving choice, but an established charity will more likely have the
experience to quickly address the circumstances and have a track record that
can be evaluated. A newly-formed organization may be well-meaning but will be
difficult to check out and may not be well managed.
For more tips on giving wisely, visit give.org. To report a scam, visit
bbb.org/scamtracker