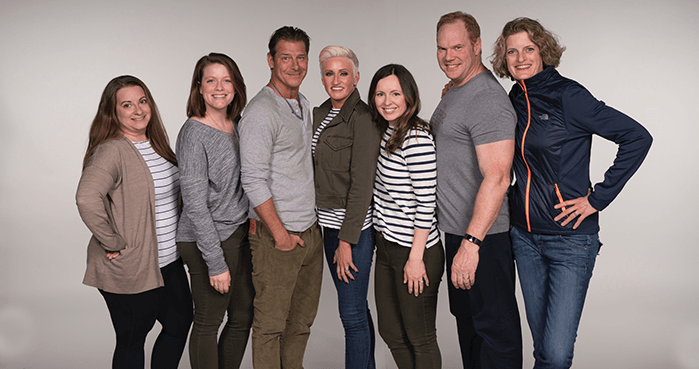 Small Business Revolution Season 3 Deluxe® Team with TV host and philanthropist, Ty Pennington

When the Small Business Revolution started three-years ago, Chief Marketing Executive Amanda Brinkman with Deluxe Corporation took her team across the country to tell inspiring stories of small businesses and their hard-working owners. Now into it's third season, the Small Business Revolution – Mainstreet continues to grow in popularity by successfully capturing the American entrepreneurial spirit and helping small businesses and struggling communities revitalize.
We had the chance to talk with Amanda about the movement, how the Northwest and Pacific can get involved and the important role BBB plays in building better businesses.
What inspired you to start the Small Business Revolution?
We were inspired to create the Small Business Revolution because we wanted to kick-start a national, multiyear movement. We believe passionately that small businesses are the lifeblood of our communities and of our economy as a whole, and we wanted to create a revolution across the country to celebrate small businesses and their immense impact.
We launched the program in conjunction with Deluxe's 100th anniversary. Our company works with millions of small businesses across the country, and on our centennial, we felt that we could make a bigger impact by shining a spotlight on small businesses, rather than focusing on ourselves. In our first year, we traveled across the country sharing the stories of 100 incredible small businesses through short films and photo essays. Along the way, we realized that nowhere are small businesses more critical to their communities than in small towns. So we launched Small Business Revolution – Main Street, which each year provides one small town and its Main Street businesses with a $500,000 revitalization. We capture the entire transformation in a show that streams at SmallBusinessRevolution.org and on Hulu, and we're currently filming Season 3 in the amazing town of Alton, Illinois.
What is the biggest 'aha' moment you've had while shooting this series?
As mentioned, when we were traveling across the country in year one of the Small Business Revolution, we realized that small businesses are particularly under siege in small towns, which is what led to the creation of Small Business Revolution – Main Street. One of the premises of the show has always been that if we invest in and strengthen a community's small businesses, it will help the entire community thrive a whole. That said, it wasn't until we were in the thick of it, shooting Season 1 in Wabash, Indiana, that I truly realized the ripple effect that can result from helping one small business owner.
For example, we worked with Lisa Downs, owner of Ellen's Bridal & Dress Boutique. We quickly noticed she had a cash flow problem – and in fact, she had sold only one dress in January 2017. After implementing our marketing and other business advice, she set a goal to sell five in January 2017. She hit that goal on January 7, 2017. As a result: She finally paid herself, receiving her first paycheck from the business…ever. This not only made an immense impact on her family, but it will sustain her business – which is frequented by other families throughout the community on some of the biggest milestones in their lives. Furthermore, we encouraged Lisa to join forces with other businesses in town – a nail salon, flower shop, gift stores, a boutique hotel, etc. – to make the community a "wedding destination," ultimately helping uplift a large group of businesses simultaneously. This in turn had an even bigger ripple effect of more money pouring into the local economy.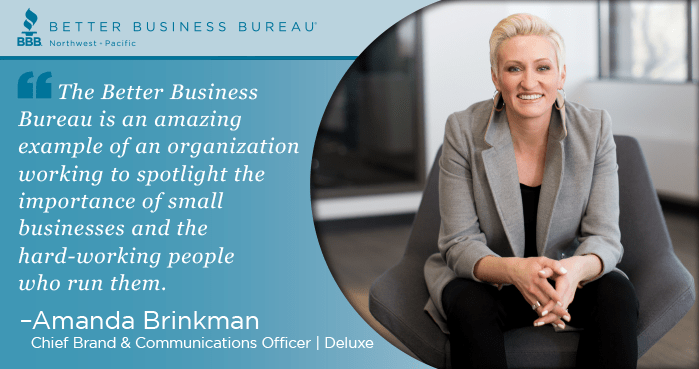 Amanda Brinkman, Chief Branding Communications Officer, Deluxe® Corporation
What are the two biggest challenges facing small business owners today?
Between the millions of small businesses that Deluxe works with across America, and the small businesses that we've helped transform on Small Business Revolution – Main Street, we've found that the two most common challenges for small businesses are marketing and knowing their numbers.
From a numbers perspective, we find that many businesses lack an understanding of fundamental accounting, and by extension, they often don't have a good grasp on how their company is really performing. It's very difficult to make educated decisions about your business if you don't have a handle on the basics of what appears in your balance sheet, you don't know how much money you're taking in versus how much you're spending, what your cash flow looks like, etc.
Meanwhile, we've found that most small business owners wear so many hats and are so focused on running their daily operations that they lose sight of marketing – often overlooking even the most basic and critical aspects of marketing. (Case in point: Roughly half of small businesses still don't even have a website.) That's why we at Deluxe love helping small businesses with marketing – so they can get back to focusing on the aspects of their business that they're most passionate about. Some of the types of things that can help businesses see immediate ROI include ensuring you have a website that is easily findable online, that you're listed accurately on all relevant online directories, that you have a good email marketing strategy, and that you have a strong logo (and other branding elements) that perfectly represent your unique business.
Where do you rank trust and ethics in running a business?
Trust and ethics are absolutely paramount for all businesses – but they are even more critical for small businesses in particular. That's because personalized, trust-based customer service is the biggest differentiator and advantage that small businesses can use to compete with big-box chains. At Deluxe, we help small businesses with all aspects of their branding – from logo design to packaging to website design. But we also remind small businesses that their individual customer interactions – and the trust that they build with their customers as a result – are among the most important aspects of your overall branding. You can have the most eye-catching logo, the most sophisticated website that shows up first in search rankings, the most thoughtful social media content strategy – but if you don't deliver on customer service and build trust with your customers, you'll never build a loyal customer base that is necessary to sustain your business.
For communities in the Northwest and in Hawaii, how can people get involved with the Small Business Revolution?
First off, head to SmallBusinessRevolution.org and binge watch Seasons 1 and 2 of Small Business Revolution – Main Street, if you haven't seen it already. While each season highlights the unique aspects of each winning community, we've purposefully designed the series – and every individual episode, for that matter – to be applicable to small businesses everywhere. And we hear time and again from people all across the country about how watching the show, following along on social media, and tapping into the other resources we've created has helped them improve their own businesses.
Beyond that, we encourage people in the Northwest and Hawaii to start considering nominating their communities for Season 4. Watching Seasons 1 and 2 now (and Season 3 this fall) will help show you what's on the line and can inform your nomination. We've had many incredible nominations from the Northwest and Hawaii in past seasons, and we'd love to see a community from one of those areas win Season 4!
Does Better Business Bureau play a role in helping small businesses be better – or – how can BBB help play a better role in making businesses be better?
The Better Business Bureau is an amazing example of an organization working to spotlight the importance of small businesses and the hard-working people who run them. That's the same mission as the Small Business Revolution, and we frequently encourage small businesses to tap into the resources around them that can help them continue to strengthen their small business community – whether that's tapping into organizations like BBB or local Chambers of Commerce, or seeking mentorship resources from groups like SCORE. We believe that these types of resources can help build even stronger small businesses. And as we've highlighted in Small Business Revolution – Main Street, a stronger small business community helps the entire community thrive.
For more information or to learn about the Small Business Revolution, visit: smallbusinessrevolution.org