Building a successful business isn't easy. Building a
successful business known for integrity, transparency, and consumer
responsiveness? Only the best, strive to make that type of commitment. That is
precisely what Better Business Bureau Northwest + Pacific celebrates with its
2019 Torch Award for Ethics, with winners for both Business and Charity of the
Year. This recognition honors organizations that demonstrate exceptional
commitment to building trust and integrity with their customers, fellow business
owners and communities.
BBB awarded both All Travel Guru and Precision Tax with
Business of the Year. Additionally, BBB added a new honor this year, the Spark
Award, to recognize newer businesses that exhibit the Torch Award values of
ethics, integrity and building trust among staff, customers and around their
communities. This year's Spark winners
are Arrottas Automax and New Beginnings LLC in Spokane.
Business of the Year
All Travel Guru was created out of a love for travel, with a
desire to share their experiences with their customers. BBBNW + P is proud to
award the Torch Award for Business Ethics for 2019 to a company that began in
their home's basement and grew into a leader in customer satisfaction and
experience. All Travel Guru's commitment
to the community in Post Falls is showcased in their donations of trips for
fundraisers that help Fire and Rescue, First Responders and Cancer
Research. Their internship program has
enriched the experience and knowledge of a student who has almost completed their
Travel and Tourism Degree.
Precision Tax Relief, LLC believes success stems from
principles and policies that put people first, beginning with its team and
extending to their customers. As a recipient of the Torch Award for Business
Ethics 2019 they are committed to creating new industry norms by consistently
delivering the most transparent, caring and diligent tax services. Through this, Precision Tax hopes that when
taxpayers discover this level of service is available, they will demand more
from the industry and unfair practices will be driven from the
marketplace.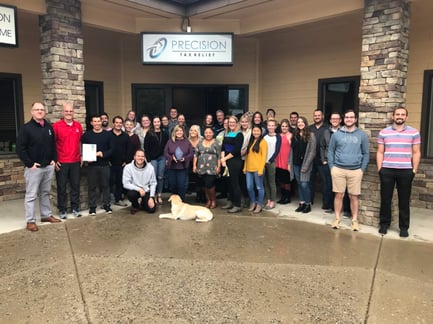 Business of the Year (Spark Award)
The team at Arrottas Automax, LLC puts community first and
that has led them to create an event that put them on the map here in Spokane
and earned them a Spark Award. The Shine
Fest, created by General Manager Tyler, helps clean up neighborhoods locally,
mowing lawns and hauling trash for less fortunate communities. A huge sense of pride that Arrottas Automax,
LLC has is being part of a wide variety of community events and fundraisers
that keep dollars local.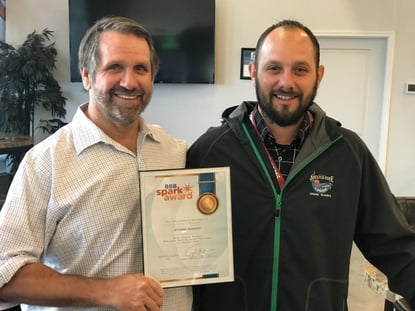 New Beginnings began when its founder, Carey Donaldson, saw
the need for compassion and expertise in tackling student loan debt. Congratulations to them on being a Spark
Award winner. New Beginnings is built on a foundation that is very close to the
standards of BBB which include honesty, truth and transparency. Safeguarding the information of their clients
is a high priority and they have worked diligently over the last three years to
establish a reputation as a business who is built on integrity, consistency and
reliability.
"We are so honored to
announce the Torch Award winners for 2019," said BBB NW+P CEO Tyler Andrew.
"This award represents ethical achievement and symbolizes the highest level of
trust in the marketplace. These businesses truly deserve the spotlight for
their dedication to these values."
This year, nearly 300 businesses and charities were
nominated for the Torch Award for Ethics. Each applicant goes through a
meticulous application process that is then reviewed by independent, voluntary
panels of judges comprised of community leaders.
Torch Award Finalists
• Bleeding
Hearts Tattoo Emporium
• Woodworker
Network
• Frost Me
Sweet
• M.
Campbell & Company
• Sandpoint
Property Management Inc.
Visit
www.trust-bbb.org/torch-awards to learn more about the awards.