We finally did it! Team
Cancer Crushers participated in the Relay for Life in Idaho Falls. After months
of planning and getting ready, the day was finally here. Honestly, I had never
been to a relay before, so I didn't know what to expect. Also, for some reason,
I was dreading it, worried it may bring sadness instead of the healing I had
hoped it would bring.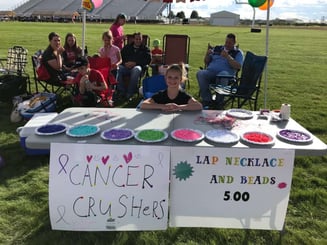 As I explained in
earlier blogs, I chose to be part of Relay for Life because we lost both of my
husband's parents to cancer just a year ago. The hurt is still raw and watching
them fight was heartwrenching. It changed all of us forever. But I also chose
the American Cancer Society to support some of my dear friends who are still
fighting cancer right now.
My best friend Emily,
whose family I consider my own, has been struck by cancer twice in recent
years, her mom is in remission from colon cancer, and her sister Stephanie just
recently had major surgery to remove her colon because of cancer. We wanted to
show Stephanie who is still recovering and battling cancer, that we were behind
her and that we love her so much.
So Emily and I created
our team (which consisted of our little families) for Relay for Life, we called
ourselves the "Cancer Crushers. We had friends from our childhood, co-workers,
and other dear friends wanting to support this cause they know is so dear to
us. Then at the event, we had a tent where we sold lap beads, so people could
grab one each lap they walked, this gave the event booths for people to visit
and helped us raise a little more money.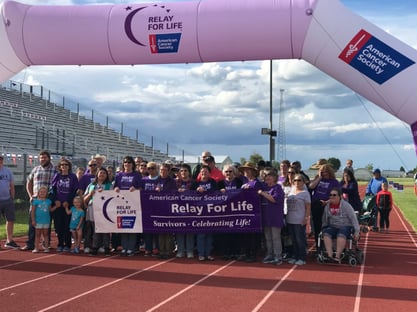 The event started with survivors
all walking the first lap, which definitely brought tears to my eyes. To see
these people who are all at different stages of recovery walking that lap,
proud of the battle they have fought. It's deeply inspiring to know what they
have been through and the rough road they still may have to travel. After that
many began to walk and stop by our little booth to buy some beads and share
their story.
As night fell, it was
time for the Luminary Ceremony, where the track is lit with luminaries to honor
those who have passed from Cancer. We all came together, to not only honor my
in-laws but many other loved ones no longer with us. After the presentation we
all walked a lap in silence, in the dark. As I walked I cried. I held the hand
of my 9-year-old son, thinking of the time with Grandparents he will never have,
thinking of my poor husband who misses his mom and dad every day. My son turned
to me and said, "mom, I have never hated Cancer more." I just whispered, "me too
buddy, me too."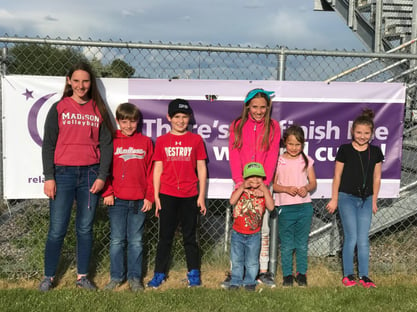 This is such a special
event and one we will definitely be participating in next year. The goal for
next year is to of course raise a little bit more for the American Cancer
Society, but ultimately we hope Stephanie can join us and take that survivor
lap, while we cheer.