The Alaska Railroad has been around for very long time,
since 1903 to be exact. Over its 100 years of service it has continued to play a
very large role in the Alaskan economy. It's probably most well known for providing
passenger services from Seward to Fairbanks. But freight is actually its largest
revenue source. On the sustainability side of the coin it has real estate,
about 35,000 acres spanning the whole state. The AKRR is a staple in the
Alaskan community, not only because of the work horse it is known as, but also
for the communities it serves that have been built along the tracks laid so
many years ago.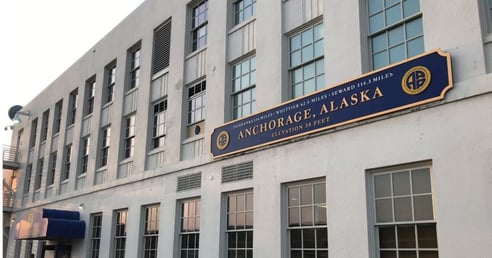 One of the very cool and unique things the AKRR does is
called a "flag stop." No matter the season, this railroad is one of the last in
the nation to provide flag stop service. Folks who live in bush communities or remote
cabins can wave down the train and hop on or off at any place along the tracks.
This is an essential function for Alaskans who live an isolated lifestyle and are
part of the very small population that lives way off the grid.
The Alaska Railroad has been around for many years and has
been an accredited business with the Better Business Bureau for over 34 years.
When I knew that my co-worker was going to be coming to Alaska to film
businesses for the "Building a Better Business" video series I knew I wanted to
capture the mystique of these big, beautiful blue and gold rail cars and
engines and all that they do, and have been doing for over 100 years.