Imagine "virtually" walking through a brand, new home –
before the foundation has even been poured.
Or a community where a family can walk "virtually" through the streets
of what will be their new neighborhood.
That's the power of virtual reality.
That's how builders, realtors, architects put clients "inside" their
dreams.
Better Business Bureau Northwest + Pacific (BBB) teamed up
with the Idaho Virtual Reality Council (IVRC) to bring the world of virtual
reality to the Treasure Valley. We invited VR experts to share the technology that's
revolutionized their businesses at an event in late February.
"This technology goes beyond video games," explained Annie
Morely, President of IVRC. And it's not
the future. It's transforming industry
right now.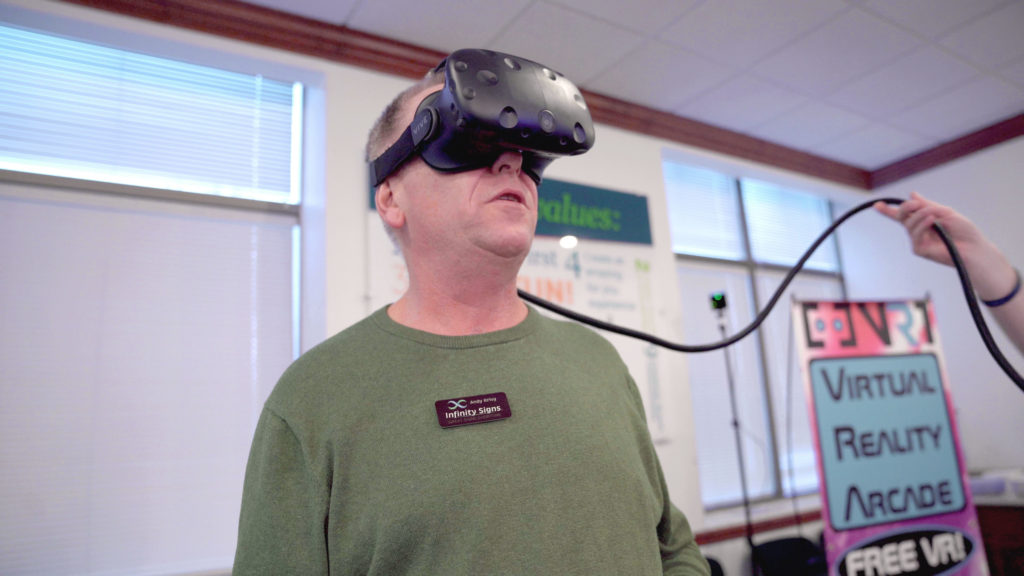 Brendan Smythe described using VR with a couple planning to
build a $1.2 million house in the Boise Foothills. Smythe is the owner of Draftech and, with his
clients, designed their entire home in virtual reality. "The first 15 minutes
is usually where the clients become kids, running around the house looking at
different rooms yelling to each other 'Honey, did you see this, where are you?'." The clients virtually walked through their
future home, checked out the shower size, figured out where the sun came in
windows, changed the countertops in their kitchen. Amazing! They've explored the inside of a
house that exists only in virtual reality; before a single shovel of dirt has
been moved.
Virtual reality even helped determine where to put the new
bar in the lobby of Boise's Grove Hotel.
Architect Rory Heggie of CSHQA says VR, "allowed the client to feel the
space," if the bar is moved from one location to another.
Then there's Epic Realty which combines VR, 3D photography
and aerial imagery to bring an entire future development to life. Epic co-founder Sheridan Hodson explained, "it's
hard to know what 44 acres feels like on a piece of paper," said Sheridan.
Sheridan expects that in ten years, a home buyer will be
able to explore neighborhoods, walk down the streets and right up to and inside
homes for sale, all from the comforts of your couch. A virtual open house – available 24/7.
BBB and IVRC even had VR headsets that event attendees could
use to experience the VR world first hand.
BBB's Dale Dixon said events like this use education and innovation to help
businesses be better. That's what BBB is
all about. To back that up, BBB gave away an Oculus Go virtual reality headset
to one lucky attendee to keep that VR spark going!