Imagine sitting next to a best friend, a child, a spouse or really anyone at all who has lost all hearing — and being there the moment they experience getting their cochlear implant turned on for the first time. Suddenly, the world of sound springs to life around them.
It was that type of moment that taught Dr. Tosha Strickland that what she does changes lives.
Born and raised in Idaho's Treasure Valley, Dr. Strickland received her training and experience in Texas and California and later returned to Boise. Upon meeting her, it's easy to see this doctor is all heart, motivated by caring for others.
Before she ever thought of starting a clinic, Dr. Strickland was
involved with literacy programs, working with kids who had trouble reading. She realized how hearing issues could severely damage children's development.
Dr. Strickland continues her mission to help children with hearing problems as owner and audiologist at Strickland Ear Clinic, a BBB Accredited Business in Meridian, Idaho.
"It is very emotional," Strickland said. "I have to tell somebody that their child is deaf. And that never gets easy. I hope it never gets easy."
From there, the doctor-patient conversation leads to different options for her patients.
"There are choices," she said. "I want them to have choices."
One of those choices for young children may be asking teachers to wear an amplifier in the classroom. Sometimes there is pushback from teachers and school employees, but Dr. Strickland helps guide parents through the bureaucracy to better help their child.
"The child needs to be taken care of, and this is how we do it," she tells them. "And let's do it the best we can, and I'm happy to help you do that."
Another option for her patients is a cochlear implant. The surgeries aren't performed at Strickland Ear Clinic, but Dr. Strickland is the one who has both the honor and responsibility of turning the implants on.
Many of us have seen viral videos of the miraculous moment as babies, young children and even older adults hear sounds for the very first time. But it's not as simple as it seems.
"It's a long road for a cochlear implant," explains Dr. Strickland. "There is a lot of therapy involved. As a child, they are discovering a lot, things like a doorbell. Or a 25-year-old hearing the click of a hair clip."
The new noisy world can be overwhelming. Dr. Strickland smiles as she tells stories of her patients' experiences as their hearing improves. One of her clients purposely drove over the center lane divide because she realized the road markers actually made a noise. Another client laughed leaving the clinic after hearing the sound of her car blinker as she turned out of the parking lot.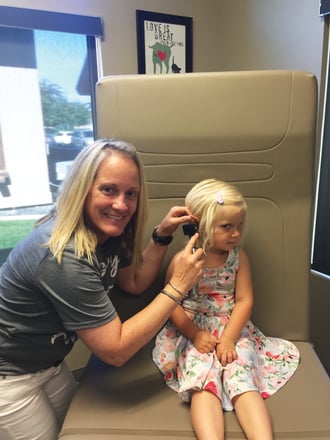 Those big "aha" moments keep her going and keep her on her game, ensuring her patients get the best results. She is armed and ready to help people who are being held back from having a fabulous life due to hearing and literacy issues. "I can help you with that!" Dr. Strickland exclaims.
When it comes to being a BBB Accredited Business, Strickland Ear Clinic embodies and upholds the eight standards of trust.
"We wanted to hold ourselves to a certain standard and we think that BBB does that," Strickland said, remarking that just as she holds herself accountable, so do her patients. "I get to work with the really honest people — seniors are really honest, kids are really honest."
She continues to maintain integrity through her success by this simple statement: "I have to sleep at night."
She doesn't recommend products that don't make sense and offers a three-point sliding scale pricing. But she is adamant about putting the patient and their needs first.
"I won't sacrifice patient care," Strickland said.
Sometimes there isn't a rule book or a step-by-step guide on building a business with compassion. Dr. Strickland leaves it up to a simpler measure, running her business with her own ethics and internal gauge, she said.
Her patients are like her family. She builds a bond with them over time, shares stories with them, meets their families and hears about how an improvement in their hearing has changed their lives. With just one conversation, it's easy to see she keeps them close to her heart. One of her guiding principles? She treats her patients the way she would want her father treated.
Strickland Ear Clinic was established in 2009. She wanted to be her own boss, she laughs, because, "I know how to do my job very well. I'm just crazy enough to do it. Some days I just have to laugh at myself. I have to laugh so I don't cry. Because it is hard. You have to stick with it."
She wishes someone would've told her just how hard it would be to run a business. If only she had a professor or a mentor who warned her there would be tremendously hard times, but even so, would be worth it. That's the advice she offers anyone looking to start their own business.
"You're going to have to love what you do, and you have to know that it's hard," she said. "My belief is that if you do your passion, you will always be able to make money. If you love what you do, then people will come to you because of that."
And that passion radiates from Dr. Tosha Strickland, sitting in her office talking with pride about the journey she's been on — from tutoring children, to fitting family friends with hearing aids in her parents' home, to finally establishing a hearing center guided by her passions and principles.