March 8th
is International Women's Day and BBBNWP chooses this day to shine a spotlight
on a standout, local, female entrepreneur.
Dee Pridemore is on a mission. Actually, make that two.
Pridemore, owner and creative director of Vivid Imaginations
Professional Face & Body Artistry, has set out to make her business a
one-stop shop for everyone's party needs. From face painting – her main trade –
to airbrush tattoos, henna art and balloon animals, Vivid Imaginations is a
business about artistic expression and, of course, fun.
But, for Pridemore, expanding her business is not the only
goal. Leading by example for her young daughter, Zoey, is what being a
female-business owner is all about.
"All of this is for my daughter," Pridemore told BBB. "I
don't want her to ever feel doubted. I want her to be ambitious."
Pridemore started her face-painting business in Tri Cities,
WA, two years ago after becoming a single mother. She had some college
education, but never completed her degree. And she had years of experience
working at Disney World being mentored by top-tier artists.
"I knew I had this business idea that had potential," she
said. Unfortunately, Pridemore added, she didn't have the support.
"I had a lot of people tell me I couldn't do it," she
explained as she fought back tears. "I've had people send me nasty
emails…saying I had a 'failed face-painting business' or that I wasn't good
with children."
Given the circumstances, the negativity hurt. Pridemore
candidly told me it was only shortly before starting her business she had ended
an abusive relationship. She ventured off on her own – just she and her
daughter – with no emotional, or financial, support. Other than the little
income she had at the time, all she had was her business idea and the passion
to make it a reality.
"I didn't want Zoey in that chaos," she said on her decision
to end the relationship. "I chose her, and I'll choose her every time. So, I
let all of that be fuel to my fire. I told myself, 'No, I love what I do and
I'm really good at what I do.' "
And with that, Pridemore pushed forward.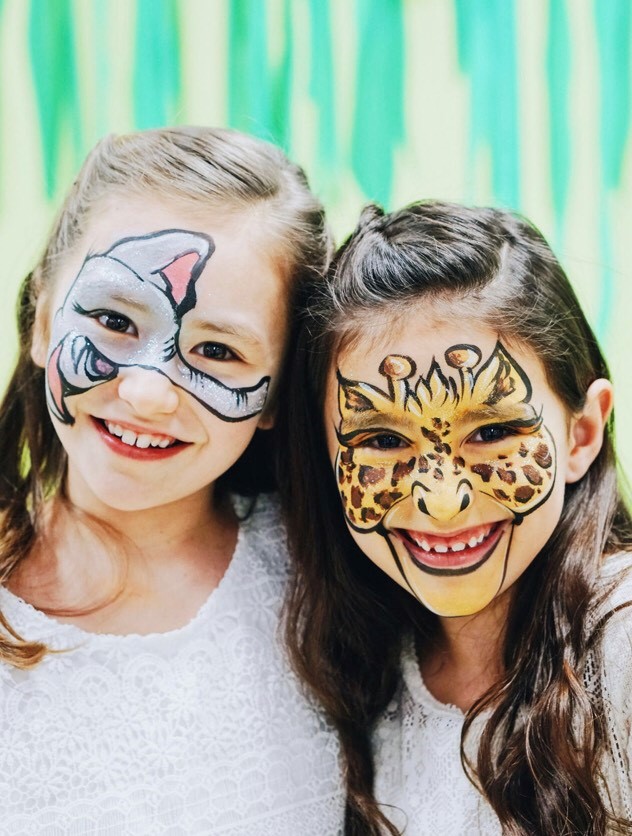 Vivid Imaginations now has three employees and offers an
array of party services. Pridemore has built a seasonal partnership with
Portland-based Oaks Amusement Park, offers her services at local Octoberfest
events and has joined forces with two other women-owned, party-planning
businesses in Tri Cities: White Glove Weddings Bridal Bar and Baum's House of
Chocolates.
"The way I see it, I sell experiences," Pridemore said. "I sell
memories."
It's important to note that while face-painting may be
perceived as a hobby, there is a very technical aspect to what Pridemore and
her team do. She told BBB, they make sure everything is extremely safe from
their technique to the products. Vivid Imaginations uses all hypo-allergenic
makeup, non-itch glitter and skin-safe sanitizer. Beyond this, her team is
trained to work with all types of children including those with autism, hearing
disabilities, various handicaps or those who just don't speak English.
Pridemore stressed the importance of this kind of training
and explained that this is one of the biggest hurdles in her industry. "Some
customers will just say, 'Why pay for you when I can just get some
high-schoolers to come by and paint faces?' But this is a lawsuit waiting to
happen," Pridemore said. She emphasized that high school students are not
trained to work with different kinds of children nor do they know how to
properly clean the products to prevent the spread of common infections such as
pink eye.
"I really want to pave the road for artists to be respected
and paid properly for what they do and what they know," she said.
Next, Pridemore hopes to continue growing her business to
eventually be a party-center hub or dispatch-center for party services
throughout the Northwest.
All the while, she intends to make sure Zoey is learning.
For her, raising a smart, strong and savvy daughter is what's truly empowering
about being a female business owner.
"I want her to know that her happiness is not dependent on
anyone else or any relationships," she said. "It comes from you and your hard
work. And it's ok if you have a rough day and you need to cry, but then it's
time to put the heels back on, go into that meeting and handle it."