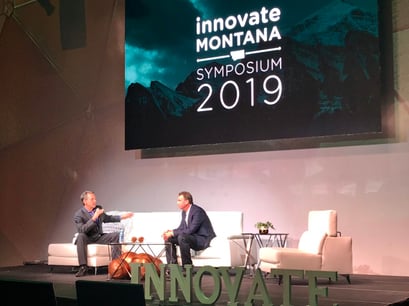 A Keynote Speech I actually stayed
awake for…
Every great keynote speaker has their schtick. A
quote to live by. A feat they overcame. A cautionary tale. Some offer advice.
Others, a lesson on taking the high road. As someone who has attended a great
many keynote speeches (here's looking at you, journalism career), I can
confidently say I've heard a little of every kind of speech.
Though I don't believe I'm fully jaded by keynotes
yet, I would say I'm skeptical when I sit down to another much-hyped speech. In
my experience, most of the meat of a conference, expo, or symposium comes from
the breakout sessions and networking conversations. So, when Fritz Lanman, CEO
of ClassPass, took the stage recently at the Montana Innovate Symposium, my
expectations were solidly "meh."
ClassPass is the hot new company that allows you
to buy one ticket to experience many gyms and boutique fitness studios. It's
your punch card to variety in your workout. Lanman was asked to speak at the
symposium because of the ClassPass office located in Missoula that employs 215
people. The startup is a boon to the local economy and part of a larger tech
company trend of flipping the "open" sign in locations throughout the Treasure
State.
Lanman began his career in the hallowed halls of
Microsoft as a Project Manager. He quickly climbed the ranks there and soon
began pouring into other companies like Pinterest and Square as an angel
investor. In 2016, Lanman took the driver's seat at ClassPass and moved his
family to Missoula for the gig.
Throughout his career, Lanman picked up not a
single anecdote to live by, but a notebook full of advice. He distilled those lessons
into 20 points to share with the Innovate Symposium.
Here is Lanman's List.
Don't start a company to become rich.
Be so good they can't ignore you.
Have realistic expectations
Surround yourself with friends and
family who get it and will give you a hall pass for the things you have to miss
out on.
Don't give up until dead (or you're
out of money).
Fail fast if you're gonna fail.
Experiment and test everything.
Non decisions are decisions.
Don't make hard decisions without
data.
Fire
people compassionately.
When
training, show, don't tell.
Celebrate
your faceplants.
Hire
missionaries not mercenaries.
Have
operating principals you actually invoke.
Don't
outsource unless you've done it yourself.
Work
ethic is a competitive advantage.
Don't
raise money if you can avoid it.
If
you raise money, throw it at your biggest problem.
Listen
to advice, but don't follow it blindly.
Avoid
layovers in the Denver Airport.
On many points, Lanman shared a backstory. Here
are some of his nuggets: If you fire employees compassionately you earn the
respect of the people who still work for you. If your mission is headed for
failure, don't drag your feet; your venture capital backers won't let you
anyhow. Operating principals are not a mission or vision statement on a wall,
they are the culture of a company every day, in every decision and detail. When
you feel like you're not the smartest, most tenured, or richest person in the room,
remember that hard work is a competitive advantage. And layovers in Denver. Avoid
those at all cost or you might be spending the night in the mile-high city,
Lanman bemoaned from experience.
Weeks after the Innovate Symposium, Lanman's speech
still resonates with me. Not for the one pillar on which he built his career,
but because of the 20 lessons he learned along the way. Seldom is there a sole
experience or value I feel I could, or should, base a keynote speech on (should
anyone ever ask me to deliver one). But 20? That's realistic. That's proof we
never stop learning, evolving, failing and re-starting. In matters of career
and life, there are infinite lessons. Twenty is a good starting point.