I have been participating in many different walks and runs in
Anchorage for a long time, years to be exact. I find it a fun way to give back
to the community and help with something bigger than oneself. Plus, there's the
bonus of being outside which I love and of course, "it's good exercise," too!
There are several throughout the year, in all seasons and weather. The "Turkey
Trot" on Thanksgiving morning, the "Shamrock Shuffle" during St. Patrick Day,
the "Making Strides Against Breast" Cancer in Fall, and "Suicide Prevention"
walk at the end of summer. I have always participated in the American Heart
Association's "Heart Run" and "Heart Walk" as well, but until one of these
issues hits close to home you never realize how important they are and what an
impact they make.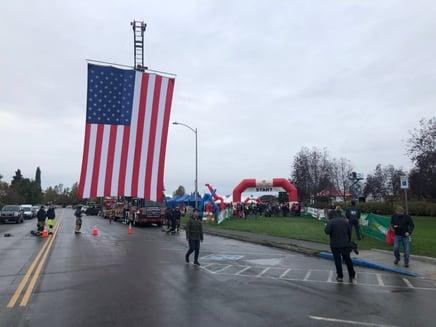 My personal journey with heart failure did not start like others.
I didn't have a heart attack or a stroke, my arteries were not blocked, I
wasn't even that unhealthy…. or so I thought. I was diagnosed with an extremely
rare condition called "Pheochromocytoma" (fee-o-kroe-moe-sy-TOE-muh). A Pheo is a rare, usually noncancerous
(benign) tumor that develops in an adrenal gland. Usually, this type of tumor
affects one of your two adrenal glands, but it can affect both. If you have a
pheo, the tumor releases hormones that cause either episodic or persistent high
blood pressure. Untreated, a pheochromocytoma can result in severe or
life-threatening damage to other body systems, especially the cardiovascular
system. Fast forward to my diagnosis, my heart was literally working itself to
death trying to keep up with all the adrenaline coursing through my veins. We
have no idea how long I had the pheo, and unfortunately part of it did come
back malignant (cancerous) but I underwent lots of testing for about 18 months
after the surgery to make sure they had removed it all. I continue to be
plagued with the ins and outs of heart failure and, although treatable, it is
not curable. However, my quality of life has vastly improved with that of an Implantable
Cardioverter Defibrillator (ICD) or pacemaker/defibrillator and now I know what
I am dealing with.
Cardiovascular disease, which
includes heart disease and stroke, takes the lives of 1 in 3 individuals in the
U.S. To put that number in perspective, we lose more lives to heart disease and
stroke each year then the entire population of the state of Alaska!
The good news is, about 80 percent of heart disease and stroke can
be prevented. Staying active and leading a healthy lifestyle is critical to
reducing your risk for heart disease and stroke. I walk now because I want to
continue to see the mission of the American Heart Association (AHA) reach other
Alaskans. Last year in Alaska alone the AHA helped train over 28,000 students
and community members to save a life with Hands-Only CPR. I walk now because my
money goes towards lifesaving science. The AHA is the second largest funder of
heart disease and stroke research, second only to the federal government. I
walk now because I was given a second chance at life, I love my community and it's
good exercise!