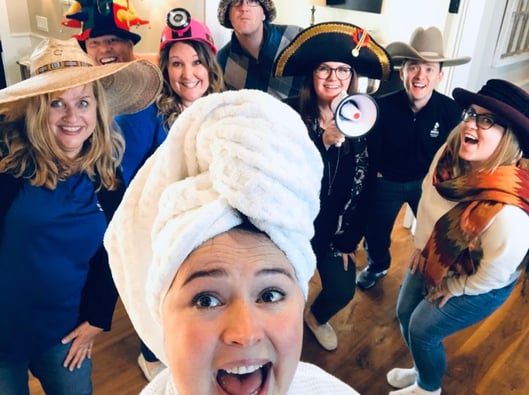 Working remotely has its perks. My morning coffee is only a few shuffles away and my
commute time is less than five minutes to the office. But, there's one thing
that I don't get much of, which I miss, and that's interaction with my colleagues.
For some, this might be ideal. But for an extrovert such as myself…not so much. Being
around an eclectic group of people, sharing ideas and making jokes is what
recharges my battery. So, sometimes, working from home can be lonely.
That's why I love meeting up with my team a couple of times a year for our bi-annual
retreats. You see, at Better Business Bureau Northwest and Pacific, nearly the
entire Marketplace team works remotely; that ensures we're spread out among
BBB's vast territory. As a gentle reminder, our territory includes Oregon,
Washington, Idaho, Hawaii, Alaska, Montana and a sliver of Wyoming. That's a
lot of ground to cover and our team is the public relations, boots-on-the-ground
that does it.
What strikes me every time I get to see my team in-full is how easily we slip back into our
collaborative nature, despite that we haven't seen each other in months. I
mean, Zoom conference calls are handy, but it's not the same. I'm so used to
working individually and outside of a normal office setting, I forget how much
value there is in working with each other in person. You can honestly feel the synergy
in the room when we're all together strategizing.
For this, I'm thankful for BBBNW+P because our leadership puts such an emphasis on company
culture and team building. The Marketplace team was selected not just for our
individual skills, but for intrinsic personality traits and characteristics
that make us excited to be in a public-facing role. We're a social,
high-energy, overly communicative…dare I say, chatty?... bunch. And it shows.
But that's also what enables this group to get in front of TV cameras, handle
presentations in front of large audiences or fill up a week with networking
events. It's nice to not be the only extrovert in a room.
Over the years at different jobs and especially now, I hear many people say they wish
they could work from home. And yeah, it is a luxury in a lot of ways that I
appreciate.
But I also feel lucky that I get to work with a group of friends that makes me think, 'Hmm, I
wish I could be in the office with them more often.'