Running a construction business is no cake walk. It's a competitive industry, and there are many moving parts to manage and coordinate. One of which is growing your company.
Whether you're just starting out or have been in business for awhile, you always need to be planning for growth and expansion, so you don't fall behind your competitors.
Here are eight things you can do to grow your construction business:
1. Hire a Great Team
Running a construction business is very hands-on, and you can't be everywhere all the time.
To make sure you can effectively delegate the operation of your business without losing sleep, you need to hire a competent team you can trust.
Not only should your employees be dependable and knowledgeable but they should also share your approach to running a construction business. They need to understand your company's mission, so they can make decisions that are in alignment with your business goals.
Don't forget to show your appreciation by promoting and rewarding your team for their great work so you can retain the best employees.
2. Invest in Your Business
You need to put in the time, resources, and efforts to grow your business if you want to stay competitive.
It could mean purchasing the best equipment so your team can do their job more effectively, or investing in safety measures to keep your employees safe.
It could be keeping up with the latest technologies so you can run your projects more cost-efficiently or get help with your marketing to make sure you're attracting a steady stream of prospects for your business.
3. Be Selective to Stay Profitable
Being in business means making a profit. If you're taking on more projects (and working harder!) without generating more profits, then you have to re-evaluate your business model.
Be selective about the projects you take on to make sure you're not only bringing in revenue but also generating a healthy profit.
4. Get Referrals From Happy Clients
Word-of-mouth marketing is still the most effective way for construction companies to get new businesses.
Encourage your best customers to tell others about your company and don't forget to show your appreciation when they send clients your way (e.g., send them a gift basket.)
Also, you can generate more business with social proof by asking your clients to share testimonials and online reviews.
In fact, 88 percent of consumers trust online reviews as much as personal recommendations, and they have become one of the best ways for local businesses to get found online.
5. Find Your Niche
People trust and are willing to pay more for specialists. Identifying a niche market or specializing in an industry is a great way to set your business apart from your competitors
It'll help you better position your business, attract high-paying clients, and generate more demand for your services. When you have identified your niche, make sure to update your website SEO and online profiles (e.g., local directories), so you can increase the chances of being found in online searches.
6. Provide an Outstanding Customer Experience
Regardless of the industry, people consider the customer experience to be an important component when making a purchasing decision.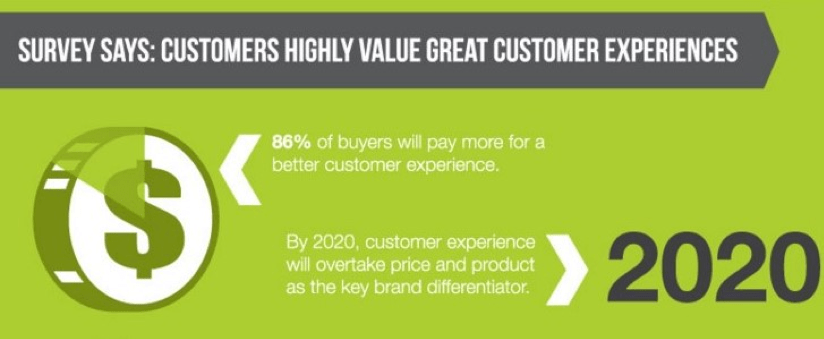 Not only do you have to offer great customer care during a project but you should also provide excellent pre-sales and post-delivery support to ensure customer satisfaction.
For example, is your team responsive in returning calls, following up on quotes, and communicating project details when a potential client inquires about your services?
Do you have a process to check in with your clients after a project is finished to make sure they're happy with the work?
7. Be Proactive With Your Marketing
You can't just sit back and hope that projects will fall from the sky.
No matter how good you are, you need to let the world know that you're in business.
Networking is a great way for construction businesses to increase brand awareness, generate leads, and connect with vendors.
Look for networking events in the local chapter of a trade association, create a system to reach out to owners, architects, and general contractors, and become active in your community to increase visibility.
Don't forget to establish an online presence. Most customers use the Internet to research vendors and contractors before they pick up the phone.
8. Get Your Legal Ducks in a Row
The legal issues involved in running a construction business can be complex.
Make sure you maintain a current business license, construction license, and other permits you need to operate in your local area. Get the legal support you need to understand local laws and construction codes to avoid costly mistakes.
The last thing you want is to get distracted by legal issues, face a hefty fine after a project is completed, or be involved in a dispute that could tarnish your reputation.