Owner of BBB Accredited Business, Above the Pearl Tattoo Studio, shares how she instills ethics in her business practices and the advice she has for entrepreneurs starting their own business.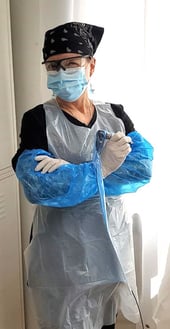 The art of tattooing has distinct meanings and significance to different people. Whether it's a small tattoo acquired during one's teenage years or a larger piece that symbolizes a significant event, person, or inner mantra – tattooing is an industry filled with unique stories. For Tanya Magdalena, owner and founder of Above the Pearl Tattoo Studio, designing and installing tattoos is a transformative experience for both her and her clients.
Magdalena is now in her 17th year as a professional tattoo artist, after finally deciding to follow her dream and quit her corporate job after 15 years as a graphic designer. "I'd lived someone else's dream.  It was time to live my dream.  It wasn't easy. At the time, learning to tattoo was still a heavily guarded secret. You had to earn your way in. That's if anyone would even talk to you at all. You had to really want it."
After breaking through and building connections of her own, she was able to meet her mentor, veteran tattoo artist Rio DeGennaro. "Rio became like a second dad to me. He taught me how to tattoo, the ins and outs of the tattoo business, and taught me to be strong in the face of adversity." After spending years building her confidence and her own style, Magdalena opened up her own private, appointment-only studio in 2007 near the Pearl District in Portland, Oregon – thus deeming the name Above the Pearl Tattoo. She relocated the studio to Milwaukee, Oregon in 2014.
The Integrity Behind Transformation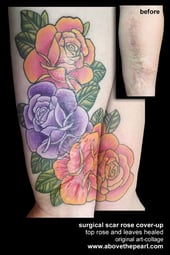 Over the years, cover-up work has become Magdalena's specialty. Whether it's a former tattoo one wants to reconstruct, to covering scars from a mastectomy surgery, or self-harm – it's about giving control back to clients. "It's helping people move through time and move on in their lives from either bad choices from the past or things totally out of their control. To be able to cover those things up, and let them have a new start and not have to be constantly reminded of that trauma."
Often booked a year in advance, Magdalena and her clients take the time to explore and understand decisions together, in a clean, sanitary, state-licensed, safe, non-judgmental environment. Building a foundation of trust is crucial. Clients from all walks of life confide in her to hear their stories and transform those stories into empowering pieces of artwork.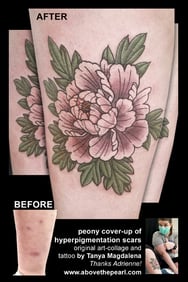 Every tattoo goes through an art review that's approved three times before it's finally inked into the skin. Magdalena combines her respect for the craft and her knowledge of longevity to steer people into making wise choices for their future. "It's going in with an informed decision. I leave nothing to chance, ensure there's no questions and make sure that all expectations line up. It's permanent and my name is on it for the rest of my client's life, so making sure it looks good in the long run, 20-30-plus years from now, is critical."
Advice for Young Entrepreneurs
When asked what she was most proud of, Magdalena was quick to say how big of an accomplishment it is to still be operating after 14 years. She emphasized how much dedication and tenacity it takes to keep a business alive, or as she puts it, "you have to keep your finger on the pulse".
She urges up-and-coming entrepreneurs to not only take business and accounting courses, but also have a business coach they can lean on. She expressed her immense gratitude for the veteran women tattoo artists that paved the way, such as Mary Jane-Haake, Madam LaZonga and others who provided her mentorship alongside Rio DeGennaro.
Magdalena's down to earth and empathetic nature has contributed to her success. It's a continued learning process as she continues to further perfect her craft as a tattoo artist. "We're not only tattoo artists, we're psychologists, we're medical people, we're artists, we're technicians, we're mechanics… and we're business owners. It's a lot, but it's what I love."