Your small business may be a labor of love, but you'll need more than just passion and fresh ideas to make your venture a success. Hard work, business savvy, and the ability to make tough financial decisions make the difference between a thriving business and one that closes its doors within a few years.
Small businesses are defined as those with 500 or fewer employees, from LLCs with multiple locations to owner/operator shops with just a handful of employees. What these businesses do have in common, however, is the need to keep a close eye on the books and brush up on financial planning skills. To put small business success into perspective, here are some surprising financial facts and ways to avoid common mistakes.
Nearly one-third of businesses fail because the owner runs out of money
You already know that starting up a business takes a larger capital outlay. What you may not realize is that 29 percent of small businesses fail because the owners run out of money. This can take many forms, however, and it's important to explore the difference between not enough capital and poorly managed expenses. In fact, 60 percent of business owners feel that they aren't knowledgeable about finances or accounting.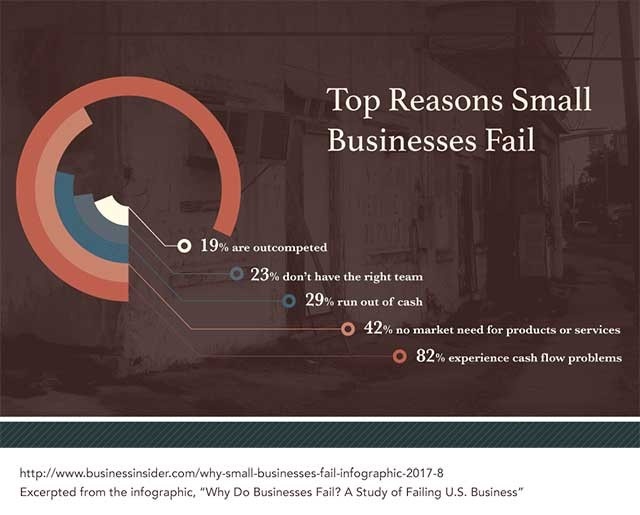 If you're heavy on staff, you may be paying more in wages than your business can sustain. Consider outsourcing some of the "busy work" of running the business, like your accounting or HR needs. This frees up hours in your day to work your business, help with customers, generate new business leads, and teach and train your staff to work independently of oversight.
According to Cynthia McCahon, founder and CEO of business plan software company Enloop, "One of the main reasons most small businesses fail is that they simply run out of cash. Writing a business plan without basing your forecasts on reality often leads to an unfortunate, and often unnecessary, business failure. Without the benefit of experience or actual historical financials, it's easy to overestimate a new company's revenue and underestimate costs."
Another thing that you need to consider- and fast, if you're just starting out in your business – is the available market share for your product or service. While larger urban areas may have more consumers, there are also more businesses just like yours that are vying for the same market share. Customers are the lifeblood of your business; the number one reason why most businesses fail - a shocking 42 percent - is actually due to lack of an available market. No matter how large or small your outreach is, a saturated market means that you'll need to step up your efforts to provide an authentic, customer-focused experience.
More than 25 percent of small business loans are approved by banks
Did you know that your lender may approve funds for your set-up or expansion? While you may have your own capital to invest or a group of investors that believe your business plan is solid, you may also be eligible for a small business loan from a bank. These loans typically have lower interest rates but may require stricter standards for approval. Generally, established success and tight bookkeeping will make lending more favorable, but here are a couple of other options that small business owners may have for a loan.
Credit unions typically have the most consistent approval rates for small business owners. Overall, 27 percent of small business loans are approved. You'll stand a better chance of loan approval from a credit union if you're a member. Also, smaller, local banks tend to be more favorable to extending a loan to a local business owner than a national corporate bank.
However, as a business owner, you still may have a 75 percent chance of being turned down for a small business loan. In order to increase your attractiveness as an investment by a bank or credit union, make sure that you have a tight, well-researched business plan and an impeccable set of books. If you aren't employing a professional financial advisor to help streamline your operating costs and increase cash flow, you may want to consider this before applying for a small business loan.
Small businesses employ nearly half of U.S. workers
The Small Business Administration (SBA) considers a small business to be one that employs 500 people or less, but the sheer number of small businesses in the country means that they employ a large percentage of eligible workers.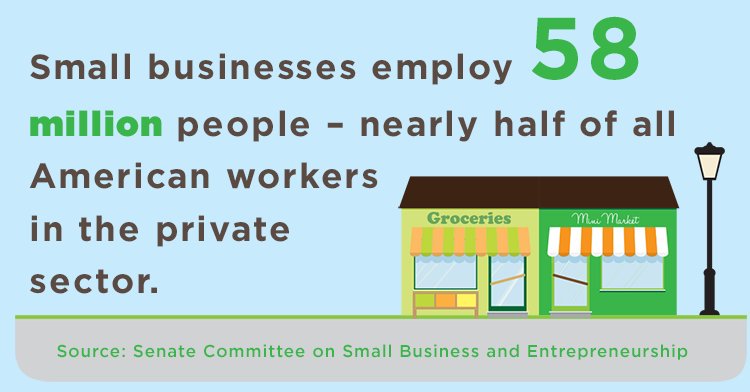 Most small businesses are considered "non-employers" or ones without any employees other than the business owner. These owner-operated businesses account for over 22 million working adults in the U.S., with the majority being home and/or internet based. If you're one of these owners, you understand the pressures of wearing many different hats. You may want to consider booking professional advice for things like taxes and business planning, or even legal advice.
Over half of the businesses in the U.S. are home-based
While many of the home-based small businesses are mostly online operating models, a surprising number of professional services, including accounting, HR consulting, therapy, and legal practices, are also based in the owner's home office. While this can save you a significant amount of overhead dollars, it may come at the cost of your own work/ life balance.
If you're one of the 52 percent of small business owners that operates out of your home, make sure to create firm boundaries between work and your personal life. Dedicate a separate workspace, even if it's just a desk devoted solely to your new venture, and consider having a "work only" phone. This is one that you can comfortably send to voicemail or create email and text auto-replies when your work hours are over.
Without a clear work/life balance as a home-based business owner, your personal life and work productivity will suffer. Feeling refreshed when you're working for your clients and having dedicated time for your family, friends, and hobbies when you're "off the clock" will help you retain the energy and passion that led you to start your own business in the first place.
Nearly half of small business owners don't know they have a business credit score
Your ability to obtain a small business loan is tied to your credit score – but did you know that lenders will look at the credit score of your business before they look at your personal loan and repayment history? Business credit scores are calculated on the same criteria as personal credit, although on a scale of 0 – 100 versus 350 – 850.
Your business credit accounts are j under your business name, not your personal one, even if you're the sole worker in your business. If you haven't incorporated yourself as a business, you may wish to obtain legal advice on how to do so, to avoid tangling your personal credit with that of your new venture. If your business is just getting started, you're probably using your personal credit to do the borrowing. This may work for the initial capital loan, but most financial advisors will help you separate your finances once your business becomes soluble.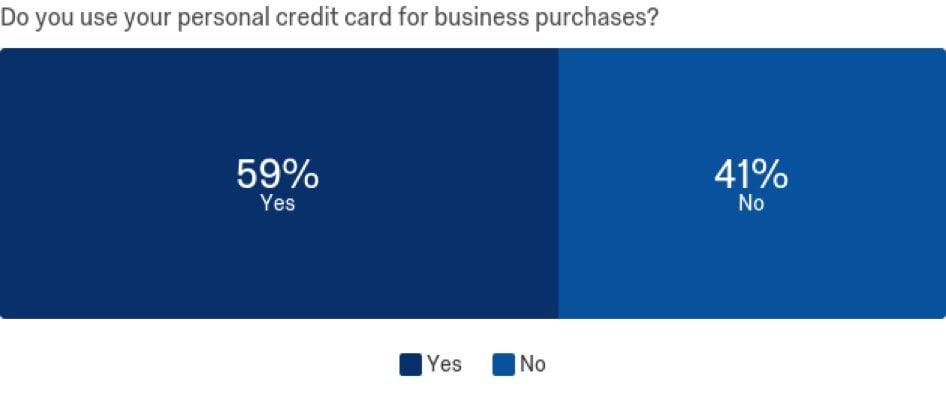 Keep in mind, however, that consumer credit bureaus generally use FICO's algorithms to calculate a credit score. Business credit score algorithms don't follow an industry standard and vary from bureau to bureau.
Starting out, your business credit score may be non-existent. This makes it difficult for lenders to assess your risk level, which can be alleviated in part by your demonstrated capital investment and a solid business plan. Even after small businesses have established a credit score, an overwhelming 82 percent of owners don't know how to interpret their score. If you haven't employed a financial advisor, consider doing so, as their advice may improve your ability to secure capital.
Most microbusinesses can get started for $3,000 or less
Your outlay may vary, but if you're primarily Internet-based and offer clients professional advice, then you can easily start with just your professional credentials and a strong marketing campaign. According to the Small Business Administration, home-based businesses can start with as little as $2000 to $5000, although most experts caution new entrepreneurs to reserve enough cash to handle at least six months of operating costs on hand before launching their new venture.
Remember that if your business is one that sells products, versus a service, that your operating costs will grow as your business grows. Your business plan should have a flexible budget that estimates your fixed costs and your variable costs, allowing you to determine the cash you'll need as your business takes off. Project your cash flow – something that is essential if you plan to apply for a small business loan – and prepare for worst-case revenue scenarios to avoid unwelcome surprises once your business opens.
Only 15 percent of small business owners take home an annual salary of over $100,000
Most small business owners earn an income, although some – a whopping 30 percent - say that they don't pay themselves at all. Most financial experts advise entrepreneurs to budget a salary for themselves, even if it's not in the six figures range at first. The SBA estimates that the average small business owner pays themselves between $20,000 and $50,000 per year.
According to PayScale statistics, the average salary for a CEO in a larger business is $163,000 per year, a clear gap between small business owner pay and that in the more traditional private sector. If financial gains are your primary motivation for starting your small business, and your life requires a certain salary, then it's important to consider what you'll actually be bringing home, especially in that vital first six months. If you're creating a business plan with projected expenses built in, consider adding in enough money to cover a salary for yourself even if your business isn't turning a profit yet.
Over one-third of small business owners don't believe they need a website
Shoppers overwhelmingly look online before making a purchase. In fact, there may be as many as thirteen different "touch points" between a customer and your business before they buy. Millennials, especially – the largest purchasing demographic in the country – prefer browsing online before purchasing. Your online presence also lends authority to your brand and can connect you in an authentic way with your customers.
It's surprising that 35 percent of small business owners feel that their operation is too small to warrant a website since, in today's world, that's how most customers find you. If you don't have an online presence, you may not even exist to a large chunk of shoppers. Designing even a basic website can be surprisingly inexpensive, and allow customers to learn more about your business, browse your products or service packages, and contact you personally.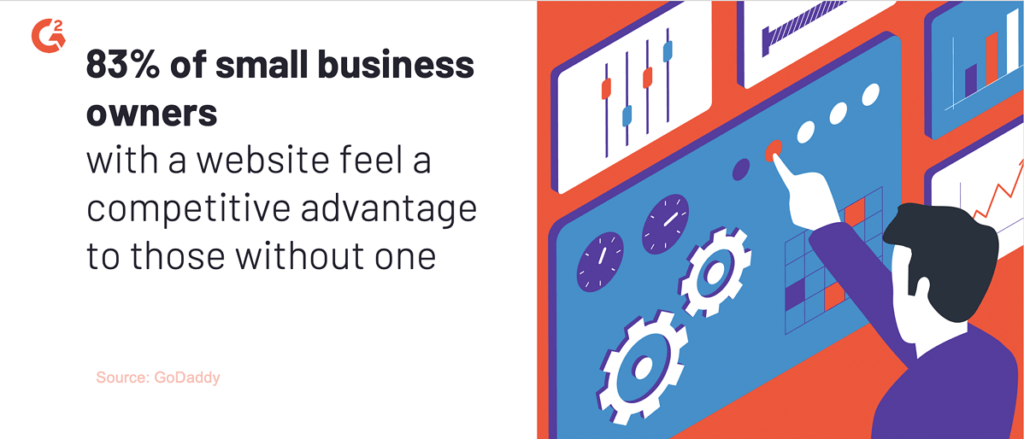 Your website is your chance to tell the story of your business – the passion you have for your industry, your expertise, and the investment you make in your clients. It's also an opportunity for you to collect more information about your customers, allowing you to create a target customer profile and market directly to what your buyer needs.
Mobile shopping and searches are very common, so ensure that once you've built your website, that it's optimized for users on the go. Many web hosting companies will include updates and privacy protection into their server packages, so look around for a company that can design and maintain the site for you, if you aren't tech-savvy. At the very least, most shoppers will want to know what you have to offer, how to contact you, where to find your business, and your operating hours. All of these should be easily found online.
Takeaway
As a business owner, it's obvious that the financial side can be tricky at times. As an entrepreneur, many of these statistics may convince you to change the way that you're operating, consider professional advice for accounting or web design, and even pay yourself a salary. Small businesses are an important part of the national economy, and vital to a healthy local economy – ensure that yours is one of those contributors.